DER WEG EINER FREIHEIT – Stellar – December 18, 2014
Posted on December 18, 2014
More information about Stellar
DER WEG EINER FREIHEIT have announced a string of European dates in March and April 2015 in support of their forthcoming new album 'Stellar, scheduled for release on March 23rd (one day later in North America). Furthermore the band has also added new festival appearances. A full list of confirmed shows can be viewed below.
DER WEG EINER FREIHEIT will be joined by compatriot sludge and post-metal outfit DOWNFALL OF GAIA. The tour will start in Germany at Berlin's Binuu on the 19th of March and continues through nine other countries before the grand finale at Juha West in Stuttgart back in Germany.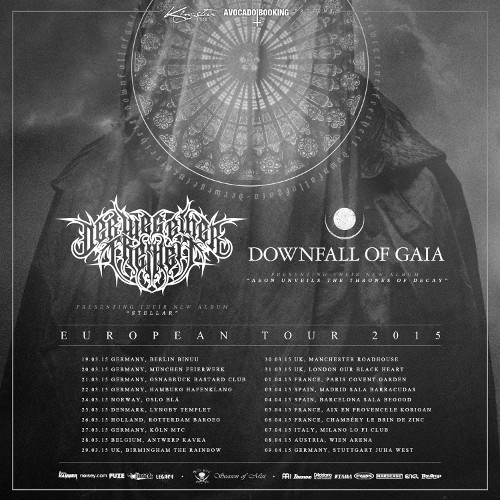 19 Mar 15 Berlin (DE) Bi Nuu
20 Mar 15 München (DE) Feierwerk
21 Mar 15 Osnabrück (DE) Bastard Club
22 Mar 15 Hamburg (DE) Hafenklang
24 Mar 15 Oslo (NO) Blå
25 Mar 15 Lyngby (DK) Templet
26 Mar 15 Rotterdam (NL) Baroeg
27 Mar 15 Köln (DE) MTC
28 Mar 15 Antwerp (BE) Kavka
29 Mar 15 Birmingham (UK) The Rainbow
30 Mar 15 Manchester (UK) Roadhouse
31 Mar 15 London (UK) Our Black Heart
01 Apr 15 Paris (FR) Covent Garden
03 Apr 15 Madrid (ES) Sala Barracudas
04 Apr 15 Barcelona (ES) Sala Begood
05 Apr 15 Luynes (FR) Le Korigan
06 Apr 15 Chambéry (FR) Le Brin de Zinc
07 Apr 15 Milano (IT) Lo Fi Club
08 Apr 15 Wien (AT) Arena
09 Apr 15 Stuttgart (DE) Juha West
Festival shows
10 Apr 15 Tilburg (NL) Roadburn Festival
11 Apr 15 Lichtenfels (DE) Ragnarök Festival
19 Jun 15 Dessel (BE) Graspop Metal Meeting
20 Jun 15 Clisson (FR) Hellfest
12 Jul 15 Kärnten (AT) Eine in Teich Open Air
The band comments: "We're very excited to announce our first extensive European tour in support of our new album 'Stellar' together with our German fellows DOWNFALL OF GAIA", write DER WEG EINER FREIHEIT. "We will visit new territories where we have never toured before and cannot wait to finally play our new songs live on stage. See you on the road!"
DER WEG EINER FREIHEIT have previously revealed a second glimpse of their work on 'Stellar'. Footage of the guitar recording can be seen here. The German black metal progenies also presented a teaser clip for the drum tracking, which is still available to be viewed there.
The German black metal act has been called "…one of the best up-and-coming bands in the black metal scene today." by Sputnik Music.com and "…the future of German Extreme-Metal" by KREATOR's Mille Petrozza (Spiegel Online), have also released a studio re-recording of a song taken from their previous EP 'Agonie'. A video clip of the track "Der stille Fluss" is streaming here.
View Der Weg einer Freiheit