DER WEG EINER FREIHEIT – Stellar – August 25, 2015
Posted on August 25, 2015
More information about Stellar
DER WEG EINER FREIHEIT have announced North American tour dates in support of their latest album 'Stellar'. The German black metal innovators will be joined by recently signed label mates BARISHI! A list of all confirmed shows can be viewed below.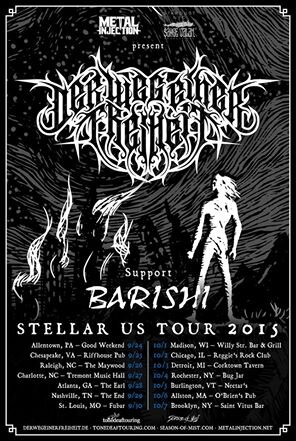 DER WEG EINER FREIHEIT / BARISHI tour dates:
9/24 Allentown, PA @ Good Weekend
9/25 Chesapeake, VA @ Riffhouse Pub
9/26 Raleigh, NC @ The Maywood
9/27 Charlotte, NC @ Tremont Music Hall
9/28 Atlanta, GA @ The Earl
9/29 Nashville, TN @ The End
9/30 St. Louis, MO @ Fubar
10/01 Madison, WI @ Willy Street Bar and Grill
10/02 Chicago, IL @ Reggie's Rock Club
10/03 Detroit, MI @ Corktown Tavern
10/04 Rochester, NY @ Bug Jar
10/05 Burlington, VT @ Nectar's
10/06 Allston, MA @ O'Brien's Pub
10/07 Brooklyn, NY @ Saint Vitus Bar
'Stellar' is still available in various formats from the Season of Mist shop and streaming on Bandcamp.
Repulsion
Requiem
Einkehr
Verbund
Eiswanderer
Letzte Sonne
DER WEG EINER FREIHEIT previously released a lyric video created by Emanuel Oropesa with artwork and illustration from Max Löffler for the new song "Einkehr", which can be viewed here.
Follow DER WEG EINER FREIHEIT on Facebook!
DER WEG EINER FREIHEIT are furthermore performing at the following European dates.
Shows with SHINING in Benelux
16 Oct 15 Venlo (NL) Grenswerk
17 Oct 15 Hasselt (BE) Muziekodroom
Festival and headlining shows
19 Sep 15 St. Pölten (AT) STP Metalweekend
06 Nov 15 Aalen (DE) Rock in Aalen (+Delirium)
07 Nov 15 Erfurt (DE) Club From Hell (+Waldschrat)
Shows with SHINING and IMPERIUM DEKADENZ in Germany
12 Nov 15 München (DE) Backstage
13 Nov 15 Stuttgart (DE) Keller Klub
14 Nov 15 Essen (DE) Turock
15 Nov 15 Köln (DE) Underground
17 Nov 15 Wiesbaden (DE) Schlachthof
18 Nov 15 Berlin (DE) Magnet
19 Nov 15 Hamburg (DE) Logo
BARISHI are touring in support of their 'Endless Howl' EP, which has been called "Short, sharp, and savage" (No Clean Singing), "a brilliant mix of progressive metal dynamics and inventive hardcore harshness that is at once creative, melodic, and captivating" (Ghost Cult Magazine), and "weird, intense, and fascinating" (Sea of Tranquility), is available for free download here.
Established in 2010 in Southern Vermont by guitarist Graham Brooks, bassist Jon Kelley and drummer Dylan Blake, BARISHI have performed their unique take on metal throughout the east coast of the United States. Within two years of their formation, vocalist Sascha Simms joined the band and completed the line-up that would release a self-titled LP in 2013 to critical acclaim. BARISHI followed the release of their self-titled record with a national tour in support of guitarist Felix Martin.
Follow BARISHI on Facebook.
View Der Weg einer Freiheit