DER WEG EINER FREIHEIT – Stellar – November 24, 2015
Posted on November 24, 2015
More information about Stellar
DER WEG EINER FREIHEIT will embark on a headlining tour of Europe in March and April 2016! A list of all confirmed tour dates can be viewed below.
The German black metal progenies will be joined by the Austrians HARAKIRI FOR THE SKY and THE GREAT OLD ONES from France on their road-trip, which starts at Gleis 22 in Münster, Germany on the 11th of March and continues through seven other countries before coming to an end at B-Hof in Würzburg, Germany on April 2nd.
DER WEG EINER FREIHEIT + HARAKIRI FOR THE SKY + THE GREAT OLD ONES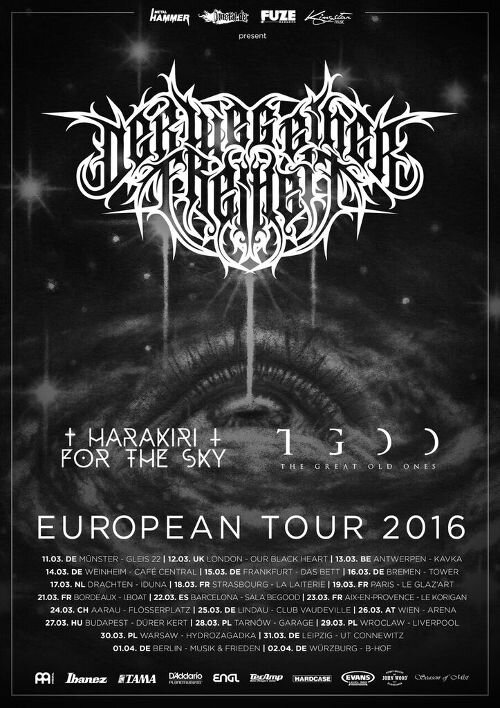 11 Mar 16 Münster (DE) Gleis 22
12 Mar 16 London (UK) Our Black Heart
13 Mar 16 Antwerpen (BE) Kavka
14 Mar 16 Weinheim (DE) Café Central
15 Mar 16 Frankfurt (DE) Das Bett
16 Mar 16 Bremen (DE) Tower
17 Mar 16 Drachten (NL) Iduna
18 Mar 16 Strasbourg (FR) La Laiterie
19 Mar 16 Paris (FR) Le Glaz'Art
21 Mar 16 Bordeaux (FR) I.Boat
22 Mar 16 Barcelona (ES) Sala Begood
23 Mar 16 Luynes (FR) Le Korigan
24 Mar 16 Aarau (CH) Flösserplatz
25 Mar 16 Lindau (DE) Club Vaudeville
26 Mar 16 Wien (AT) Arena
27 Mar 16 Budapest (HU) Dürer Kert
28 Mar 16 Tarnów (PL) Garage
29 Mar 16 Wroc?aw (PL) Liverpool
30 Mar 16 Warszawa (PL) Hydrozagadka
31 Mar 16 Leipzig (DE) UT Connewitz
01 Apr 16 Berlin (DE) Musik & Frieden
02 Apr 16 Würzburg (DE) B-Hof
Festival
08 Jul 16 Ballenstedt (DE) Rock Harz Open Air
06 Aug 16 Wacken (DE) Wacken Open Air (exact date TBA)
03 Sep 16 Hamburg (DE) Full Metal Cruise
DER WEG EINER FREIHEIT have recently premiered a video clip featuring the song "Letzte Sonne" (Last Sun) taken from their acclaimed latest full-length 'Stellar', which can be viewed here.
The band commented: "We deliberately place 'Letzte Sonne' as the final track on 'Stellar' to act as the quintessence of our album's lyrical concept. Based on the metaphor of leaving this place and reaching out to the sun and the stars, 'Letzte Sonne' can be seen as the last resort of finding yourself, freedom, and peace. It was the first track we finished for the album and has been exclusively performed during our joint tour with THE OCEAN back in February 2014, which can be seen in this video. Enjoy!"
DER WER EINER FREIHEIT are touring in support of their latest album 'Stellar', which is still available in various formats from the Season of Mist shop and streaming on Bandcamp.
Repulsion
Requiem
Einkehr
Verbund
Eiswanderer
Letzte Sonne
Follow DER WEG EINER FREIHEIT on Facebook!
View Der Weg einer Freiheit