DER WEG EINER FREIHEIT – Finisterre – May 17, 2017
Posted on May 17, 2017
More information about Finisterre
DER WEG EINER FREIHEIT are now premiering the first sinister track taken from their forthcoming fourth studio album 'Finisterre'. The song 'Skepsis Part II' is exclusively streaming with the official partners listed below.
Spark (CZ)
Metal Hammer (DE)
Rockzone (ES)
La Grosse Radio (FR)
Inferno (FI)
Rocking (GR)
Lángoló Gitárok (HU)
Metal Italia (IT)
Lords of Metal (NL)
Eternal Terror (NO)
Kvlt (PL)
Loud (PT)
Metalfan (RO)
Crank It Up (SE)
Antichrist Magazine (UA)
Metal Hammer (UK)
Metal Injection (US)
Frontman Nikita Kamprad comments on behalf of the band: "We are extremely stoked to finally be able to present the first new track taken from our upcoming album 'Finisterre'. In comparison to the quite complex and progressive instrumental 'Skepsis Part I', the now premiered 'Skepsis Part II' is a more straight forward composition, in which epic melodies are aggressively building up until the doomy grand finale. Ultimately, we consider both parts of 'Skepsis' to be connected and forming one extensive musical piece. This lyric video also provides an impression and closer look at the extensive album artwork, which was created by our friend Max Löffler once again. Enjoy!"
DER WEG EINER FREIHEIT have also released the artwork and track-list of 'Finisterre', which can both be viewed below.
Aufbruch
Ein letzter Tanz
Skepsis Part I
Skepsis Part II
Finisterre
DER WEG EINER FREIHEIT have previously announced a European headlining tour supported by French brothers in spirit, REGARDE LES HOMMES TOMBER and the recently added INTER ARMA.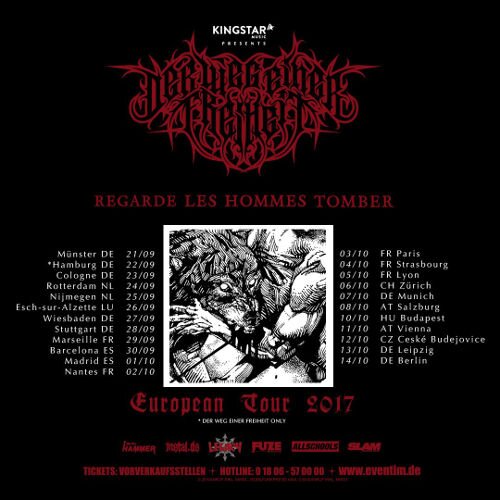 DER WEG EINER FREIHEIT Festivals
29 Jul 17 Albi Carmaux (FR) Xtreme Fest
09 Aug 17 Fortress Josefov (CZ) Brutal Assault Open Air
16 Aug 17 Dinkelsbühl (DE) Summer Breeze Open Air
22 Sep 17 Hamburg (DE) Hamburg Metal Dayz
DER WEG EINER FREIHEIT + INTER ARMA + REGARDE LES HOMMES TOMBER
21 Sep 17 Münster (DE) Gleis 22
23 Sep 17 Köln (DE) Underground
24 Sep 17 Rotterdam (NL) Baroeg
25 Sep 17 Nijmegen (NL) Merleyn
26 Sep 17 Esch-sur-Alzette (LU) Kulturfabrik
27 Sep 17 Wiesbaden (DE) Schlachthof
28 Sep 17 Stuttgart (DE) Keller Klub
29 Sep 17 Puget Sur Argens (FR) Le Rat's
30 Sep 17 Barcelona (ES) Razzmatazz 3
01 Oct 17 Madrid (ES) Sala Caracol
02 Oct 17 Nantes (FR) Le Ferrailleur
03 Oct 17 Paris (FR) Le Petit Bain
04 Oct 17 Strasbourg (FR) La Laiterie
05 Oct 17 Lyon (FR) O'Totem
06 Oct 17 Zürich (CH) Werk 21
07 Oct 17 München (DE) Kranhalle
08 Oct 17 Salzburg (AT) Rockhouse
10 Oct 17 Budapest (HU) Dürer Kert
11 Oct 17 Wien (AT) Arena
12 Oct 17 Ceské Budejovice (CZ) MC Fabrika
13 Oct 17 Leipzig (DE) UT Connewitz
14 Oct 17 Berlin (DE) Lido
'Finisterre' can now be ordered in various formats from the Season of Mist shop.
Join DER WEG EINER FREIHEIT on their official Facebook page!
View Der Weg einer Freiheit