DER WEG EINER FREIHEIT – Finisterre – August 2, 2017
Posted on August 2, 2017
More information about Finisterre
DER WEG EINER FREIHEIT are now releasing the opening song taken from their forthcoming fourth album, 'Finisterre'. The new masterpiece of the rising German black metal stars will be released on August 25th. The harsh track, "Aufbruch" is streaming at the link below.
Listen to "Aufbruch" here
Frontman Nikita Kamprad comments on behalf of the band: "It was quite a hard task to pick to the right song to open our new album, especially when there were only four songs to choose from. But with its furious and blasting kick-off, right after a reflective, somewhat mysterious intro (that has been cut off for this premiere, but you will find it on the album), we settled for 'Aufbruch' as the best candidate. Being the fastest song of our discography so far, it features a wide range of dynamics and instrumentation and thereby perfectly represents the whole album. We have also taken our vocal performance to a new level by adding different chorale-like clean voices that we have been experimenting with since 'Stellar'. Basically this is what DER WEG EINER FREIHEIT sounds like today, we hope that you will enjoy it!"
DER WEG EINER FREIHEIT have previously released the artwork and track-list of 'Finisterre', which can both be viewed below.
Aufbruch
Ein letzter Tanz
Skepsis Part I
Skepsis Part II
Finisterre
DER WEG EINER FREIHEIT have previously announced a European headlining tour supported by French brothers in spirit, REGARDE LES HOMMES TOMBER and the recently added INTER ARMA.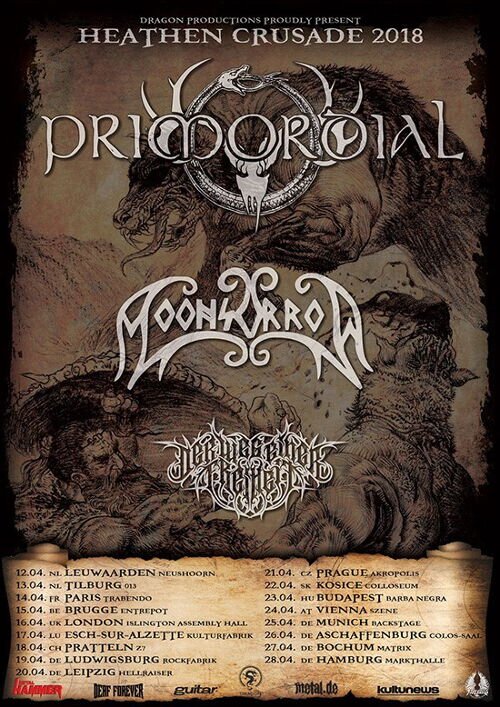 DER WEG EINER FREIHEIT Festivals
09 Aug 17 Fortress Josefov (CZ) Brutal Assault Open Air
16 Aug 17 Dinkelsbühl (DE) Summer Breeze Open Air
22 Sep 17 Hamburg (DE) Hamburg Metal Dayz
DER WEG EINER FREIHEIT + INTER ARMA + REGARDE LES HOMMES TOMBER
21 Sep 17 Münster (DE) Gleis 22
23 Sep 17 Köln (DE) Underground
24 Sep 17 Rotterdam (NL) Baroeg
25 Sep 17 Nijmegen (NL) Merleyn
26 Sep 17 Esch-sur-Alzette (LU) Kulturfabrik
27 Sep 17 Wiesbaden (DE) Schlachthof
28 Sep 17 Stuttgart (DE) Keller Klub
29 Sep 17 Puget Sur Argens (FR) Le Rat's
30 Sep 17 Barcelona (ES) Razzmatazz 3
01 Oct 17 Madrid (ES) Sala Caracol
02 Oct 17 Nantes (FR) Le Ferrailleur
03 Oct 17 Paris (FR) Le Petit Bain
04 Oct 17 Strasbourg (FR) La Laiterie
05 Oct 17 Lyon (FR) O'Totem
06 Oct 17 Zürich (CH) Werk 21
07 Oct 17 München (DE) Kranhalle
08 Oct 17 Salzburg (AT) Rockhouse
10 Oct 17 Budapest (HU) Dürer Kert
11 Oct 17 Wien (AT) Arena
12 Oct 17 Ceské Budejovice (CZ) MC Fabrika
13 Oct 17 Leipzig (DE) UT Connewitz
14 Oct 17 Berlin (DE) Lido
'Finisterre' can still be pre-ordered in various formats from the Season of Mist shop
Join DER WEG EINER FREIHEIT on their official Facebook page!
View Der Weg einer Freiheit