DESTRÖYER 666 – Call of the Wild – January 8, 2018
Posted on January 8, 2018
More information about Call of the Wild
DESTRÖYER 666 will release a crushing new EP on February 23rd, 2018. 'Call of the Wild' contains three brand new songs and a fresh take on their classic and live-favourite, "Trialed by Fire". The metal wolf-pack is already streaming the title-track at the link below.
Listen to the new DESTRÖYER 666 song via the official Season of Mist YouTube channel here!
Artwork and details of 'Call of the Wild' can be found below.
Violence Is Golden
Stone by Stone
Call of the Wild
Trialed by Fire
On other news, DESTRÖYER 666 have announced North American shows. The band will join WATAIN on their "Pandemoniac Wolf March" tour starting February 23rd, 2018. A full list of confirmed dates can be found below.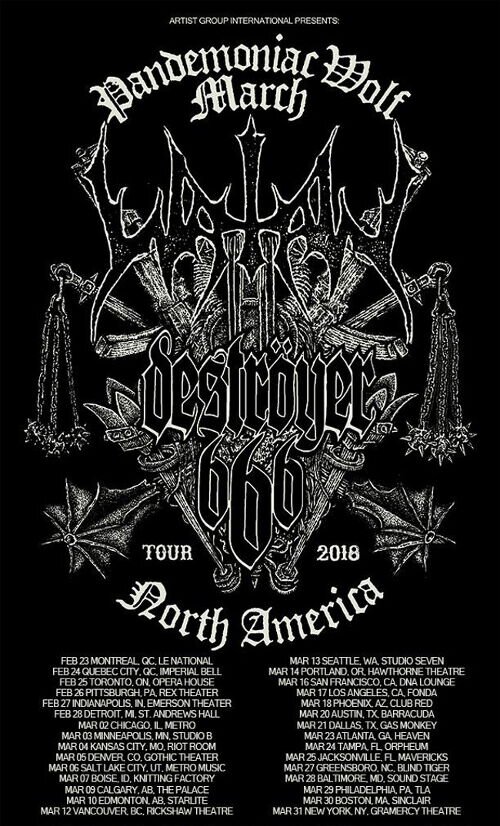 DESTRÖYER 666 + WATAIN
23 Feb 18 Montreal, QC (CA) Le National
24 Feb 18 Quebec City, QC (CA) Imperial Bell
25 Feb 18 Toronto, ON (CA) Opera House
26 Feb 18 Pittsburgh, PA (US) Rex Theater
27 Feb 18 Indianapolis, IN (US) Emerson Theater
28 Feb 18 Detroit, MI (US) St. Andrew's Hall
02 Mar 18 Chicago, IL (US) Metro
03 Mar 18 Minneapolis, MN (US) Studio B
04 Mar 18 Kansas City, MO (US) Riot Room
05 Mar 18 Denver, CO (US) Gothic Theater
06 Mar 18 Salt Lake City, UT (US) Metro Music
07 Mar 18 Boise, ID (US) Knitting Factory
09 Mar 18 Calgary, AB (US) The Palace
10 Mar 18 Edmonton, AB (US) Starlite
12 Mar 18 Vancouver, BC (CA) Rickshaw Theater
13 Mar 18 Seattle, WA (US) Studio Seven
14 Mar 18 Portland, OR (US) Hawthorne Theater
16 Mar 18 San Francisco, CA (US) DNA Lounge
17 Mar 18 Los Angeles, CA (US) Fonda
18 Mar 18 Phoenix, AZ (US) Club Red
20 Mar 18 Austin, TX (US) Barracuda
21 Mar 18 Dallas, TX (US) Gas Monkey
23 Mar 18 Atlanta, GA (US) Heaven
24 Mar 18 Tampa, FL (US) Orpheum
25 Mar 18 Jacksonville, FL (US) Mavericks
27 Mar 18 Greensboro, NC (US) Blind Tiger
28 Mar 18 Baltimore, MD (US) Soundstage
29 Mar 18 Philadelphia, PA (US) TLA
30 Mar 18 Boston, MA (US) Sinclair
31 Mar 18 New York, NY (US) Gramercy Theater
'Call of the Wild' can now be pre-ordered in various formats from the Season of Mist shop
Join DESTRÖYER 666 on their official Facebook page!
View Deströyer 666