DESTRÖYER 666 – Call of the Wild – October 30, 2018
Posted on October 30, 2018
More information about Call of the Wild
DESTRÖYER 666 have kicked off the "Call of the Wild" Latin American tour. The tour kicks off tonight at Salon Bolivar in Mexico City, and continues on through South America, hitting Argentina, Brazil, Colombia, and more. A full list of confirmed tour dates can be found below.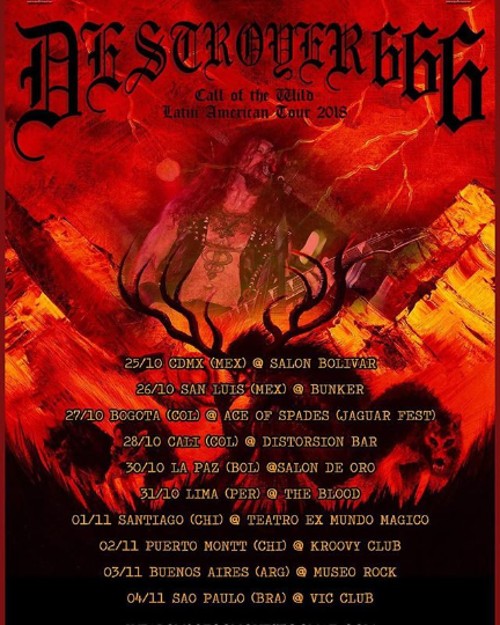 DESTRÖYER 666 Latin American Tour
Oct. 30 La Paz, Bolivia @ Salon de Oro
Oct. 31 Lima, Peru @ The Blood
Nov. 1 Santiago, Chile @ Teatro Ex Mundo Magico
Nov. 2 Puerto Montt, Chile @ Kroovy Club
Nov. 3 Buenos Aires, Argentina @ Museo Rock
Nov. 4 Sao Paulo, Brazil @ Vic Club
'Call of the Wild' is still available in the Season of Mist shop.
Join DESTRÖYER 666 on their official Facebook page.
View Deströyer 666