E-KUNST – New Signing – August 2, 2017
Posted on August 2, 2017
Enjoy 15% off Zbigniew M. Bielak's masterpieces until August 31st. Buy works designed for Ghost, Paradise Lost, Gorguts, Enslaved, Mayhem and many more for a great price here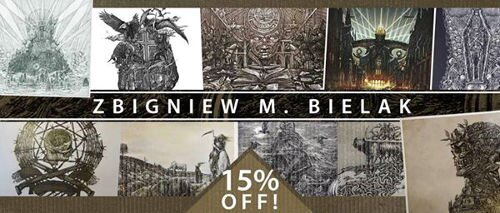 The name is as bold as the art and music itself. E-Kunst is a reference to Entartete Kunst – "degenerate art" in German. It is a term adopted by the Nazis to describe modern art, i.e. the art Hitler did NOT like. It is also a reference to Electronic Kunst, meaning "online culture".
There is nothing political in this, just our denial of any art code and authority. We embrace this title of deviant; degenerate art as extreme music does to this very day.

Join us on the official E-Kunst Facebook page.