ENDSTILLE – Kapitulation 2013 – March 4, 2014
Posted on March 4, 2014
More information about Kapitulation 2013
Black metal storm to ravage the continent: ENDSTILLE have announced a European campaign in support of their latest full-length 'Kapitulation 2013'. Support fire for the Germans will come from their Norwegian label mates KOLDBRANN and Swedish cultists ONDSKAPT.
This dark offensive is scheduled to begin with a massive attack on club Vera in Groningen, The Netherlands on March 27th and will continue to rage throughout Europe until its final point of destination in Hamburg, Germany on the 6th of April. All targets can be viewed below:
ENDSTILLE & KOLDBRANN Live Dates
27 Mar 14 Groningen (NL) Vera
28 Mar 14 Oostrozebeke (BE) JH 't Ipperste
29 Mar 14 Paris (FR) Le Divan du Monde
30 Mar 14 Nantes (FR) Le Ferrailleur
01 Apr 14 Toulouse (FR) Saint des Seins
02 Apr 14 Winterthur (CH) Gaswerk
03 Apr 14 Nürnberg (DE) Rockfabrik
04 Apr 14 Alsfeld (DE) Hessenhalle (Kings of Black Metal Warm Up Night)
05 Apr 14 Leipzig (DE) Hellraiser
06 Apr 14 Hamburg (DE) Bambi Galore
ENDSTILLE unleashed their eighth full frontal assault 'Kapitulation 2013' last November. The album is still available through the Season of Mist e-shop. Artwork and tracklisting are as follows:
Aborted
The Refined Nation
Reich An Jugend
Sick Heil
Blasphemer [bonus track]
Monotonus 2013
Nostalgia
Stalin Note
KDF 511
Endstille (Abschied)
KOLDBRANN are finally engaging in a black offensive to support their latest album 'Vertigo', which came out to take away the light of day in January 2013 and can still be purchased via the Season of Mist e-shop.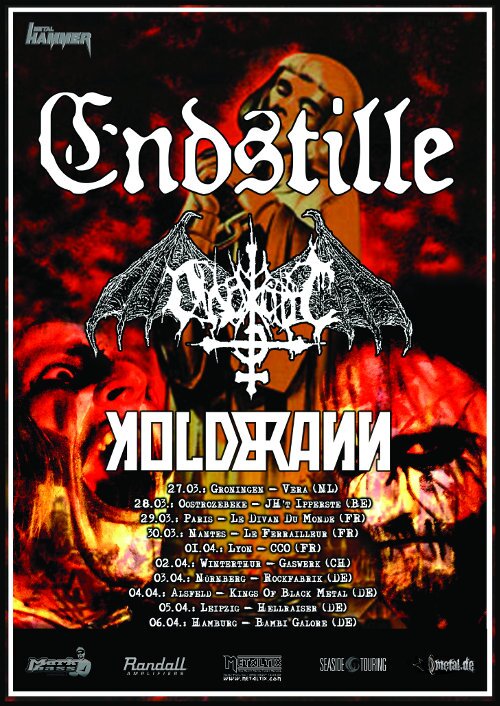 View Endstille