ENDSTILLE – Kapitulation 2013 – October 29, 2015
Posted on October 29, 2015
More information about Kapitulation 2013
ENDSTILLE have yesterday in Glasgow begun their invasion of the UK, which sees the black German war machine supported on the flanks by STAHLSARG and VERDELET. Their merciless campaign will push through until a final battle at the Camden Barfly in London on October 30th, where their ranks will be reinforced by EASTERN FRONT. All confirmed dates can be viewed below.
ENDSTILLE have furthermore revealed the title of their next full-length, which will probably be released at the end of 2016 or at the beginning of 2017 – provided composing and production work out as planned. Their next album is supposed to carry the title 'Finis Germaniae'.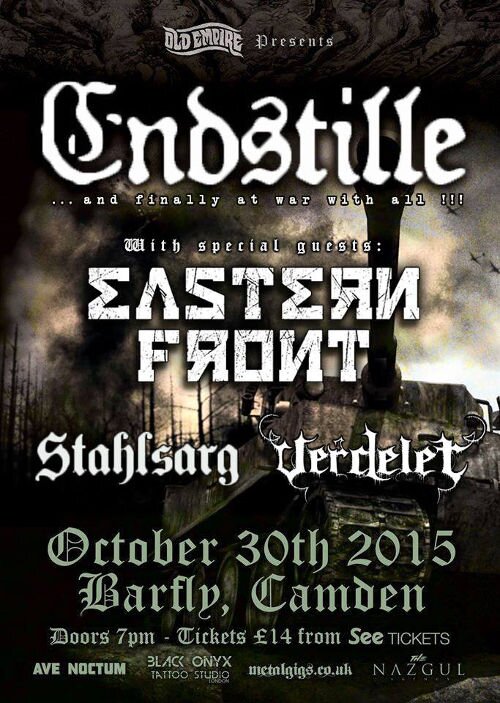 ENDSTILLE with STAHLSARG and VERDELET
28 Oct 15 Glasgow (UK) Ivory Blacks
29 Oct 15 Brighton (UK) Sticky Mikes
30 Oct 15 London (UK) Camden Barfly (+Eastern Front)
Please note that the previously announced show at the Exchange in Bristol on November 1st has been cancelled without replacement.
04 Dec 15 Mannheim (DE) Alte Seilerei
30 Jan 16 Hamburg (DE) Klubsen (Anniversary 2016)
with ARROGANZ and MOMENT OF SALVATION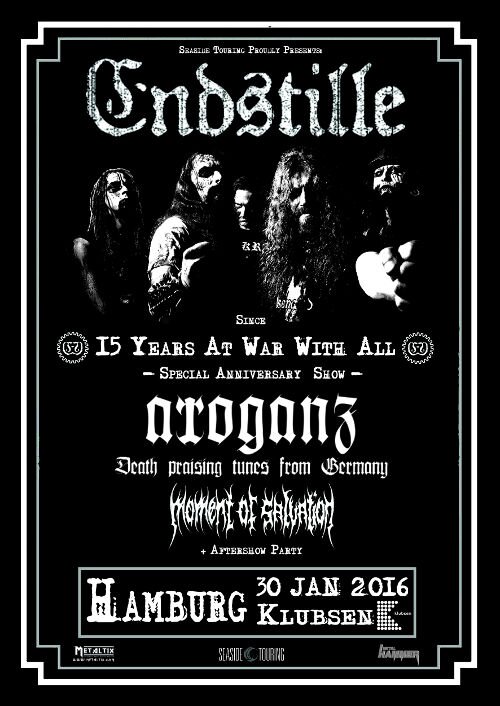 ENDSTILLE will furthermore perform a one off show in the Alter Seilerei in Mannheim on December 4th. The black metal veterans have also invited their fans to celebrate the 15th band anniversary with a special show and the support of ARROGANZ and MOMENT OF SLAVATION in Hamburg at Klubsen on the 30th of January 2016. Last but not least an appearance at the Grimm Extreme Fest in Gent, Belgium has been confirmed for the 13th of February 2016.
ENDSTILLE are touring in support of their eighth full frontal assault 'Kapitulation 2013', which is still available through the Season of Mist e-shop and can be streamed in its entirety here! A video clip for the track "Aborted" can be viewed here.
Artwork and tracklisting are as follows:
Aborted
The Refined Nation
Reich An Jugend
Sick Heil
Blasphemer [bonus track]
Monotonus 2013
Nostalgia
Stalin Note
KDF 511
Endstille (Abschied)
Join ENDSTILLE on Facebook!
View Endstille