ESBEN AND THE WITCH – Nowhere – September 25, 2018
Posted on September 25, 2018
More information about Nowhere
ESBEN AND THE WITCH have released the second track from their new album 'Nowhere', which will be released on November 16th via Season of Mist. Listen to "Dull Gret" at the link below.
The new song is now streaming via these official media partners:
Overdrive (AU)
Rock Hard (DE) [LI
Power of Metal (DK)
Noise Magazine (FR)
Friedhof Magazine (ES)
Rocking (GR)
The New Noise (IT)
Never Mind The Hype (NL)
Kvlt (PL)
Loud (PT)
Antichrist Magazine (UA)
Echoes and Dust (UK)
The band comments: "We've been playing this song on the road for the last two years now. A tribute to the women out there who dare to go against the grain, despite the battles they encounter on the way. In 1563, Peter Brueghel painted a vision of an unruly woman, leading a female army to pillage hell. She is Dull Gret. This is our vision, our call to arms. Do not underestimate nor constrain us, united we are more powerful than you could imagine. "One woman makes a din, two women a lot of trouble, three an annual market, four a quarrel, five an army, and against six the Devil himself has no weapon." Flemish Proverb, 1568.
On previous news, ESBEN AND THE WITCH have revealed a string of European tour dates in November and December 2018 and at the start of 2019. See the full list of confirmed shows below.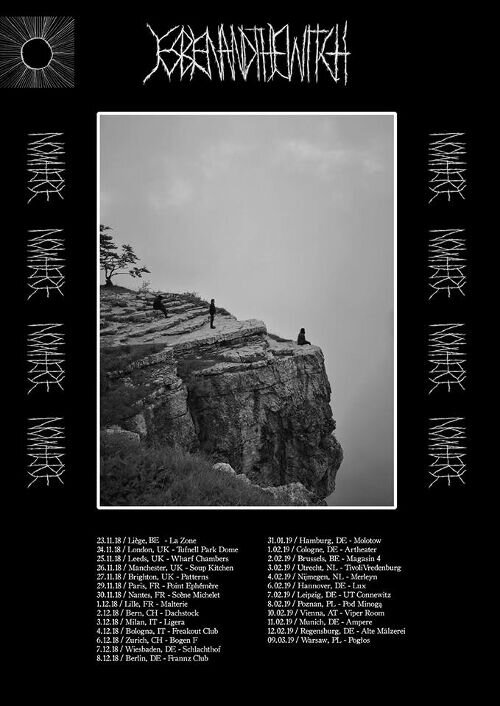 ESBEN AND THE WITCH 2018
23 Nov 18 Liege (BE) La Zone
24 Nov 18 London (UK) Tufnell Park Dome
25 Nov 18 Leeds (UK) Wharf Chambers
26 Nov 18 Manchester (UK) Soup Kitchen
27 Nov 18 Brighton (UK) Patterns
29 Nov 18 Paris (FR) Point Ephemere
30 Nov 18 Nantes (FR) Scene Michelet
01 Dec 18 Lille (FR) Malterie
02 Dec 18 Bern (CH) Dachstock
03 Dec 18 Milan (IT) Ligera
04 Dec 18 Bologna (IT) Freakout Club
06 Dec 18 Zurich (CH) Bogen F
07 Dec 18 Wiesbaden (DE) Schlachthof Kesselhaus
08 Dec 18 Berlin (DE) Frannz Club
ESBEN AND THE WITCH 2019
31 Jan 19 Hamburg (DE) Molotow
01 Feb 19 Cologne (DE) Artheater
02 Feb 19 Brussel (BE) Magasin 4
03 Feb 19 Utrecht (NL) Tivoli Club Nine
04 Feb 19 Nijmegen (NL) Merlyn
06 Feb 19 Hannover (DE) Lux
07 Feb 19 Leipzig (DE) UT Connewitz
08 Feb 19 Poznan (DE) Pod Minoga
10 Feb 19 Vienna (AT) Viper Room
11 Feb 19 Munich (DE) Ampere
12 Feb 19 Alte Mälzerei (DE) Regensburg
09 Mar 19 Warsaw (PL) Poglos
Join ESBEN AND THE WITCH on their official Facebook page.
'Nowhere' can be pre-ordered at the official Season of Mist shop.
View Esben and the Witch