ESBEN AND THE WITCH – Nowhere – November 27, 2018
Posted on November 27, 2018
More information about Nowhere
ESBEN AND THE WITCH have kicked off their European tour tomorrow. During the first leg of the tour, the three piece will play shows in Belgium, the United Kingdom, France, Switzerland, Italy and Germany. At the start of 2019, the tour continues with several more shows in Germany, Belgium, The Netherlands, Austria and Poland.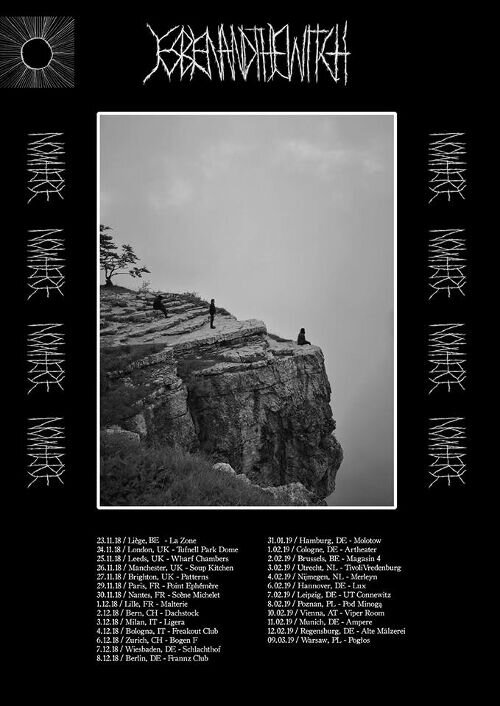 ESBEN AND THE WITCH – live 2018
27 Nov 18 Brighton (UK) Patterns
29 Nov 18 Paris (FR) Point Ephemere
30 Nov 18 Nantes (FR) Scene Michelet
01 Dec 18 Liile (FR) Malterie
02 Dec 18 Bern (CH) Dachstock
03 Dec 18 Milan (IT) Ligera
04 Dec 18 Bologna (IT) Freakout Club
06 Dec 18 Zurich (CH) Bogen F
07 Dec 18 Wiesbaden (DE) Schlachthof Kesselhaus
08 Dec 18 Berlin (DE) Frannz Club
The band comments: "After months of honing these songs in our tiny rehearsal room we are psyched to be unleashing them upon stages across Europe. The songs of Nowhere will join together with some old favourites drawn from deep in the vaults. The wheels slowly begin to turn once more, see you out there. Onwards!"
ESBEN AND THE WITCH are playing in support of their newly released record 'Nowhere'. The album is available in various formats in the Season of Mist shop.
Join ESBEN AND THE WITCH on their official Facebook page.
View Esben and the Witch