ESOTERIC – Paragon of Dissonance – March 4, 2014
Posted on March 4, 2014
More information about Paragon of Dissonance
Kings of experimental doom metal ESOTERIC return to Europe in support of their critically acclaimed double album 'Paragon of Dissonance'. The English will explore new areas in Eastern and Central Europe as well as Scandinavia plus Central Europe. ESOTERIC will be joined on most dates by Swedish/Chilean epic doom masters PROCESSION. This powerful package will be completed by special guests ISOLE from April 11th to 22nd and INDESINENCE for the remainder of the dates, which can be viewed in full below:
ESOTERIC European Dissonance Tour 2014
11 Apr 14 Zürich (CH) Werk 21
12 Apr 14 Leipzig (DE) UT
13 Apr 14 Darmstadt (DE) Steinbruch Theater
14 Apr 14 Szczezin (PL) Slowianin
15 Apr 14 Wroclaw (PL) Lykend
16 Apr 14 Warsaw (PL) 2kola
17 Apr 14 Vilnius (LT) Kablys
18 Apr 14 Riga (LV) Melna Piektdiena
19 Apr 14 Tallinn (EE) Tapper Club
20 Apr 14 Helsinki (FI) Bar Loose
21 Apr 14 Uppsala (SE) Cursed Uppsala
22 Apr 14 København (DE) KB18
23 Apr 14 Hamburg (DE) Hafenklang
24 Apr 14 Berlin (DE) K17
25 Apr 14 Oberhausen (DE) Helvete
26 Apr 14 Bruxelles (BE) Magasin 4
The tour is preceeded by two UK warm up shows in March:
07 Mar 14 Glasgow (UK) Ivory Blacks
08 Mar 14 Liverpool (UK) The Pilgrim
'Paragon of Dissonance' was released in November 2011 and is still available through the Season of Mist e-shop.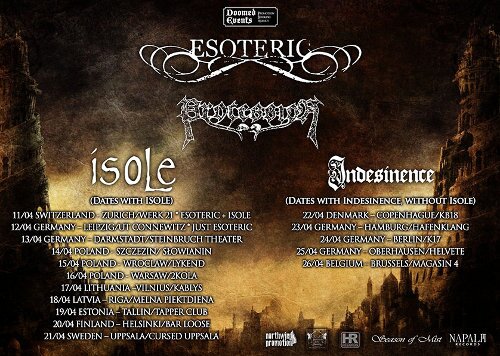 View Esoteric