News update : ETHS – April 23, 2015
Posted on April 23, 2015
ETHS are announcing a new drummer after recently parting ways with their long-time member Yom. The new man on the sticks is now revealed to be R.U.L. For a demonstration of his outstanding talent and skills, click here!
ETHS comment: "We are thrilled to announce that R.U.L will be banging the drums for us on our next live shows. Our first rehearsals with him were mind-blowing and we cannot wait to introduce you to this very talented drummer! We had a great time with Yom and wrote some of our best songs together, but after a lot of deliberating we reached the shared conclusion to proceed on separate paths. Yom remains a dear friend and we wish him all the best for the future!"
The new sticksman adds: "It is an honour for me to be playing with ETHS and it is a great pleasure to work with them", R.U.L comments. "I cannot thank them enough for their trust!"
ETHS have previously announced a string of summer festival shows and a Spanish tour in November 2015. For a list of all confirmed concerts, please see below.

24 Apr 15 Albertville (FR) D-Viation Festival
06 May 15 Montmorot (FR) Crazyfest
13 Jun 15 Peynier (FR) South Metal Fest
21 Jun 15 Clisson (FR) Hellfest
26 Sep 15 Corbie (FR) Rockin' The Docks (Asso Le Bruit Du Rock)
03 Oct 15 Moudon (CH) Les Prisons de Moudon
12 Nov 15 Bilbao (ES) Sonora
13 Nov 15 Madrid (ES) We Rock
14 Nov 15 Valencia (ES) Rock City
15 Nov 15 Barcelona (ES) Razz 3
On further news, ETHS mastermind Staif has joined the ESP guitar team. The guitarist comments: "I am very proud to announce that I'm now part of the ESP family! I am extremely thrilled to hold these brand new guitars in my hands. Let's meet at our next shows to let you hear how they sound!"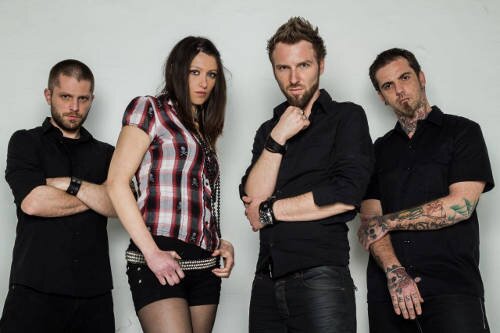 ETHS are currently hard at work on their forthcoming fourth full-length, which is tentatively scheduled for a late 2015 / early 2016 release.
Line-up
Staif: guitars
Rachel Aspe: vocals
Damien: bass
R.U.I.: drums
View Eths