ETHS – Ankaa – April 20, 2016
Posted on April 20, 2016
More information about Ankaa
French modern metal stars ETHS are revealing their complete forthcoming album 'Ankaa', which has been scheduled for worldwide release on April 22nd. 'Ankaa' is now exclusively streaming via the official media partners below.
Metal Obsession (AU)
Spark (CZ)
Metal Hammer (DE)
Friedhof Magazine (ES)
Radio Metal (FR)
Rocking (GR)
Lángoló Gitárok (HU)
Metal Wani (IN)
Metalitalia (IT)
Lords of Metal (NL)
Metal Hammer (NO)
Ultraje (PT)
Terrorizer (UK)
Revolver (US)
ETHS guitarist Staif Bihl comments: "Here we are, the entire album! I'm really glad to finally share it with everybody. Each song has its own universe and I have built Ankaa as a walk through these different atmospheres, like a passage from the oppressive darkness to soothing clarity. I tried to keep the essence of the band but, in the same time, to bring it in places where we've never been. I injected a big part of myself in this opus and I hope you'll like it as much as we do! We want to warmly thank all those who participated in this album, a part of each of us is in here! Faustine Berardo, Sarah Layssac, Jon Howard & Björn Strid for all the additional vocals, Dirk Verbeuren for the drumming, Guillaume Dupré for the percussions, Nelson Leeroy for the mixing, Mobo (Conkrete Studio) for the mastering & Nicolas Senegas for the artwork. This album is dedicated to our friend Isilion …"
'Ankaa' will hit the stores this Friday and the album is already available from the Season of Mist shop in various formats. Artwork and track-list can be viewed below.
Nefas
Nihil Sine Causa
Amaterasu
Seditio
Nixi Dii
Vae Victis
HAR1
Sekhet Aaru
Kumari Kandam
Alnitak
Alnilam
Mintaka
ETHS have already announced a string of shows. You can find a complete list of confirmed dates below. More dates will be announced soon.
23 Apr 16 Oignies (FR) Le Metaphone
24 Apr 16 Arlon (BE) Entrepot
26 Apr 16 Grenoble (FR) Amperage
07 May 16 Gueret (FR) Chapelle de la providence
16 Jul 16 Landresse-Ouvrans (FR) Festival La Guerre du Son
13 Aug 16 Hensies (BE) ParkRock Festival
14 Aug 16 Vareness Vauzelle (FR) Why not metal fest
30 Sep 16 Montbeliard (FR) Atelier des moles
01 Oct 16 Decines Charpieu (FR) Warm audio
14 Oct 16 Istres (FR) L'Usine
04 Nov 16 Auch (FR) Le Cri'Art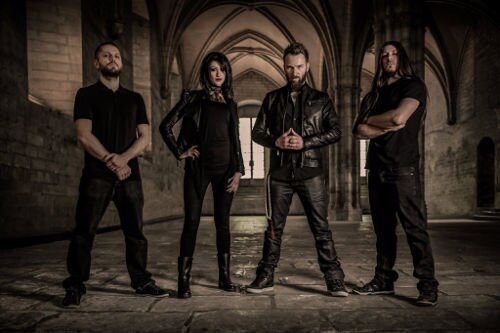 Line-up
Staif Bihl: guitars
Rachel Aspe: vocals
Damien Rivoal: bass
R.U.L: drums (live)
Dirk Verbeuren: drums (album)
Follow ETHS on Facebook!
View Eths