EXIVIOUS – New Signing – August 28, 2013
Posted on August 28, 2013
More information about Liminal
Season of Mist is proud to welcome instrumental progressive band EXIVIOUS to the roster! The Dutch quartet consists of Tymon Kruidenier (ex-CYNIC) and Michel Nienhuis (DODECAHEDRON) on guitars, Robin Zielhorst (ex-CYNIC) on fretless bass and Yuma van Eekelen (ex-PESTILENCE, THE NEW DOMINION) on drums. EXIVIOUS' forthcoming second album is entitled 'Liminal' and has been scheduled for a November 8th release (November 12th in North America).
"We're very pleased to announce that EXIVIOUS has found a home with Season of Mist", the band comments. "After being independent since the beginning of the band, it's an exciting step for us to get signed. As such, we're proud and honored to be taken in by one of the most prestigious metal labels out there. Season of Mist is driven foremost by their passion for good music and they have an impressive roster of bands. We're very optimistic about a long and successful collaboration".
The sound of EXIVIOUS is hard to define; it operates in a space where metal meets fusion meets post-rock and still is none of the above. The band blends a wide variety of musical genres into a coherent, unified sound that's driven by the incredible chemistry shared by the four musicians. You can get an idea of what 'Liminal' will sound like by listening to "Entrust", the opening track of the album.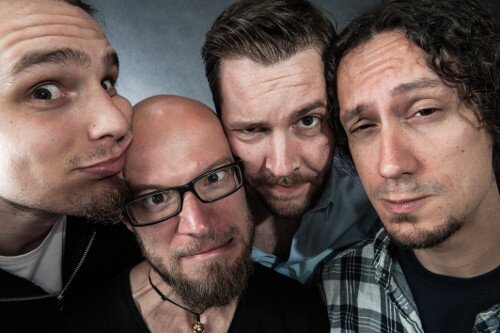 View Exivious