Season of Mist just inked a European deal with Texan lunatics FAIR TO MIDLAND! The whole label staff is thrilled to welcome one of the most daring and original bands of the 21st century to the roster.
"We are filled with excitement to be working with Season of Mist", singer Darroh Sudderth comments. "We're genuinely proud of this new record and believe our European listeners/friends are in for a pleasant surprise. We are antsy as hell to get back overseas!"
FAIR TO MIDLAND's new full-length is entitled "Arrows and Anchors" and will be released in the early summer. "We are a band that makes albums and this is the best one that we've ever made. It might be the heaviest non-metal album you will hear this year", adds Darroh. The follow-up to the highly acclaimed "Fables from a Mayfly: What I Tell You Three Times Is True" has been produced by Joe Barresi (TOOL, QUEENS OF THE STONE AGE, COHEED AND CAMBRIA).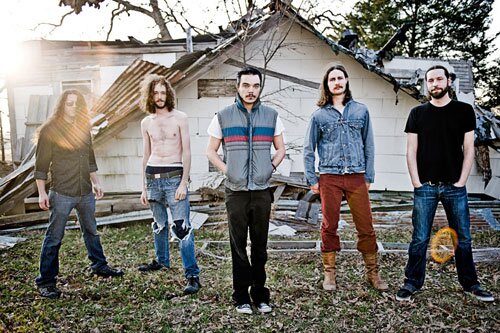 Founded in 1998 in the quiet farm town of Sulphur Springs, Texas, FAIR TO MIDLAND quickly became one of the Lone Star State's fastest-rising bands, earning critical acclaim for their first two independent releases, 2001's "The Carbon Copy Silver Lining" and the 2004 "inter.funda.stifle". Since the release of "Fables From a Mayfly" in 2007, they have shared the stage with bands such as the Smashing Pumpkins, Flyleaf, Chevelle, Dir en Grey, Alice In Chains and Serj Tankian throughout the U.S. & Europe. The band has made appearances at festivals such as Coachella, Bamboozle, Download Festival, Rock AM Ring and Rock IM Park.
View Fair To Midland