GAAHLS WYRD – GastiR Ghosts invited – February 26, 2019
Posted on February 26, 2019
More information about GastiR Ghosts invited
Norwegian extreme metal formation GAAHLS WYRD, fronted by renowned vocalist Gaahl, have successfully kicked off their European co-headliner tour with TRIBULATION, UADA and IDLE HANDS.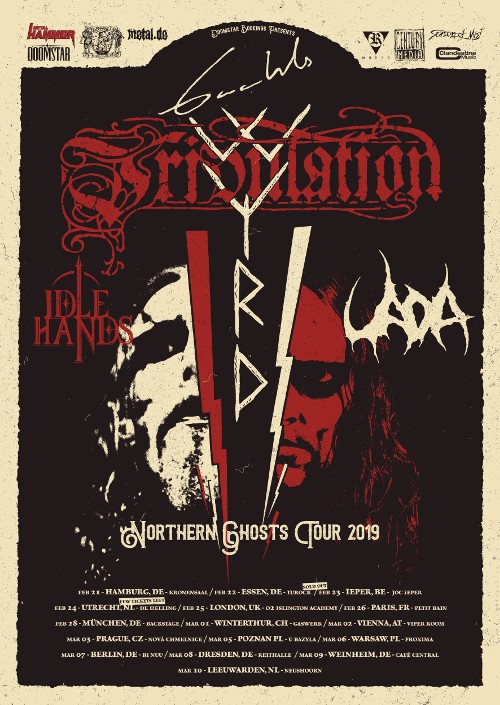 The tour is still running through France, Germany, Austria, Czech Republic, Poland and will have the final date Sunday March 10, in Leeuwarden (NL). Several shows are sold out, among which Utrecht, Essen and Weinheim. The remaining tour dates are listed below.
GAAHLS WYRD with TRIBULATION, UADA and IDLE HANDS
26 Feb 19 Paris (FR) Petit Bain
28 Feb 19 Munich (DE) Backstage
01 Mar 19 Winterthur (CH) Gaswerk
02 Mar 19 Vienna (AT) Viper Room
03 Mar 19 Prague (CZ) Nova Chmelnice
05 Mar 19 Poznan (PL) U Bazyla
06 Mar 19 Warschau (PL) Proxima
07 Mar 19 Berlin (DE) BiNuu
08 Mar 19 Dresden (DE) Reithalle
09 Mar 19 Weinheim (DE) Cafe Central
10 Mar 19 Leeuwarden (NL) Neushoorn
Other live dates
20 Apr 19 Oslo (NO) Inferno Festival
17 May 19 Hyvinkaa (FI) Steelfest
23 Jun 19 Varnai (LT) Kilkim Zaibu Festival (Exact date TBA)
19 Jul 19 Bertingen (DE) Rock Unter Der Eichen (Exact date TBA)
25 Jul 19 Tolmin (SL) Metaldays Tolmin
15 Aug 19 St Nolff (FR) Motocultor Festival (Exact date tba)
16 Aug 19 Dinkelsbuhl (DE) Summer Breeze Open Air (Exact date tba)
Find all available GAAHLS WYRD merchandise in the Season of Mist shop.
Join GAAHLS WYRD on their official Facebook page.
View Gaahls Wyrd