GORGUTS – Pleiades' Dust – May 17, 2017
Posted on May 17, 2017
More information about Pleiades' Dust
GORGUTS have not only announced four special package shows featuring GORGUTS alongside FALLUJAH, HAVOK, REVOCATION and opener VENOM PRISON, but the acclaimed Canadian death metal pioneers also revealed more European dates in summer in support of their latest release 'Pleiades Dust'. See below for a list of all confirmed dates.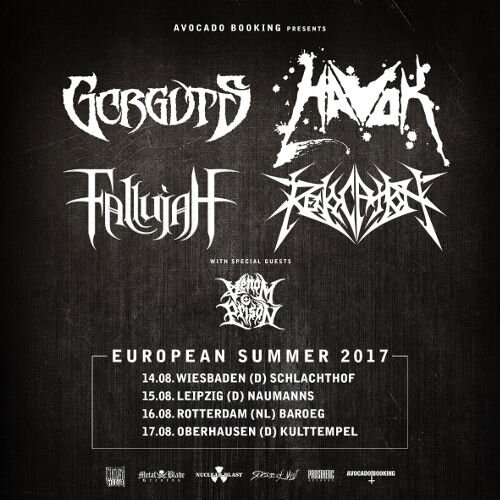 The special European package shows with FALLUJAH, HAVOK, and REVOCATION come with changing running orders at every of the four venues. Please see below for each event:
Wiesbaden, Germany
Revocation
Fallujah
Gorguts
Havok
Venom Prison
Leipzig, Germany
Fallujah
Revocation
Havok
Gorguts
Venom Prison
Rotterdam, Netherlands
Gorguts
Havok
Fallujah
Revocation
Venom Prison
Oberhausen, Germany
Havok
Gorguts
Revocation
Fallujah
Venom Prison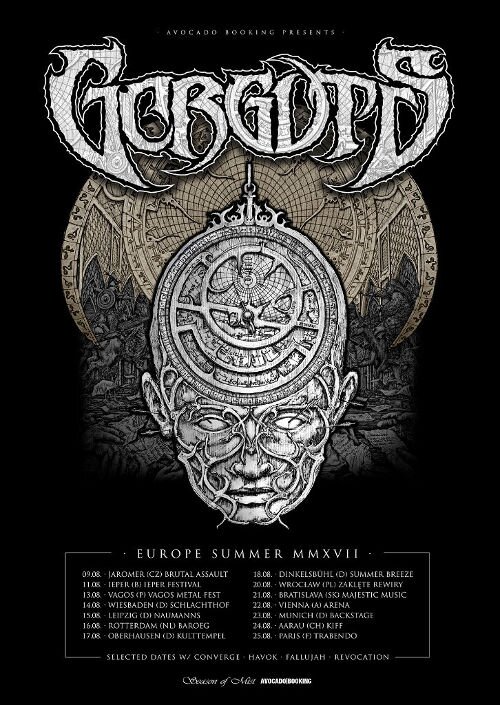 The band will also be performing at Brutal Assault (CZ), Ieper Festival (BE), Vagos Metal Fest (PT), and Summer Breeze (DE) as well as tour in support of CONVERGE with HAVOC and REVOCATION in August.
GORGUTS Festivals
09 Aug 17 Jaromer (CZ) Brutal Assault
11 Aug 17 Ieper (BE) Ieper Festival
13 Aug 17 Vagos (PT) Vagos Metal Fest
18 Aug 17 Dinkelsbühl (DE) Summer Breeze
GORGUTS + FALLUJAH + REVOCATION + HAVOK + VENOM PRISON
14 Aug 17 Wiesbaden (DE) Schlachthof
15 Aug 17 Leipzig (DE) Naumanns (Fallujah, Revocation, Havok, Venom Prison)
16 Aug 17 Rotterdam (NL) Baroeg (Fallujah, Revocation, Havok, Venom Prison)
17 Aug 17 Oberhausen (DE) Kulttempel (Fallujah, Revocation, Havok, Venom Prison)
GORGUTS + CONVERGE + HAVOK + REVOCATION
20 Aug 17 Wrocław (PL) Zaklęte Rewiry
21 Aug 17 Bratislava (SK) Majestic Music Club
22 Aug 17 Wien (AT) Arena
23 Aug 17 München (DE) Backstage Halle
24 Aug 17 Aarau (CH) Kiff
25 Aug 17 Paris (FR) Trabendo
GORGUTS will be performing in support of their previous albums as well as their critically highly acclaimed latest EP 'Pleiades' Dust'. Artwork and track list can be viewed below.
| | |
| --- | --- |
| | Pleiades' Dust |
'Pleiades Dust' can still be ordered in various formats from the Season of Mist shop.
Join GORGUTS on their official Facebook page!
View Gorguts