GRAVE DESECRATOR – Dust To Lust – May 31, 2016
Posted on May 31, 2016
More information about Dust To Lust
GRAVE DESECRATOR are unleashing the third raw track taken from their forthcoming album 'Dust to Lust', which will hit stores on June 17th and can be pre-ordered here. The song "Funeral Mist" is now exclusively streaming via BandCamp. Continue reading for artwork & tracklist!
The artwork of 'Dust to Lust' has been created by renowned Polish artist Zbigniew M. Bielak (MAYHEM, WATAIN, GHOST, ZHRINE) and can be viewed below.
Intro (Dust To Lust)
Temple Of Abominations
Funeral Mist
Gods Of Death
A Witching Whore
Host Desecration
Anathema Bloodlust
Bleed For Worship
Memento Mori
One More Soul
Mephistophallus In Occultopussy
Perpetual Oath
Regarding the artwork, Bielak comments: "With all its contrasts, hostility, intolerance, corruption, Brazil has proven to be a time capsule for the mundane times of uniformity and facilitation, which nowadays render the western metal so tame and complacent. That being said, GRAVE DESECRATOR's story is no different from the ones of SARCÓFAGO, SEPULTURA or even SLAYER in their tough formative '80s. In rivers of rehearsal sweat and against all odds, album by album, they slowly polished their rough stone into a deadly blade. And now it is time to bleed. It is not easy to pinpoint the spirit of Brazilian extreme metal – it is a fine mixture of tanned sexuality and funerary sacrilege that only few could convey the way SARCÓFAGO or SEXTRASH did. These four derailed rovers of abomination and forbidden fun certainly can! It has been an honour to embark on this journey with them and for once illustrate a flawless 80's album. I praise the old Brazilian scene and SARCÓFAGO's 'Rotting' cover is among my favorite artworks of all time, so obviously the artwork for 'Dust to Lust' pays some homage here and there. The inner artwork is yet another tribute – to HR Giger, whose spirit strongly permeated the aesthetics 80's metal, and about whose passing I learnt, while staying with the guys in Rio."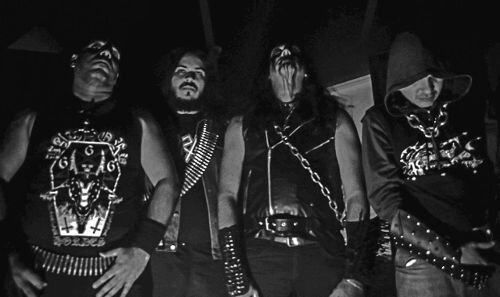 Line-up
Butcherazor: guitars & vocals
Black Sin and Damnation: guitars
Élson "El" Necrogoat: bass
Márcio Slaughterer: drums
Join GRAVE DESECRATOR on their Facebook and official website!
View Grave Desecrator