HARK – Machinations – December 8, 2016
Posted on December 8, 2016
More information about Machinations
HARK have announced a European tour in support of their forthcoming album 'Machinations'. The Welsh heavy rockers will hit the road together with CONAN and DOWNFALL OF GAIA in March 2017. A full list of confirmed dates can be found below.
Mastermind Jimbob Isaac comments: "This tour is a monster package, and we are anticipating a lot fun with our friends in CONAN. We cannot wait to hit Europe with our new album and line-up!"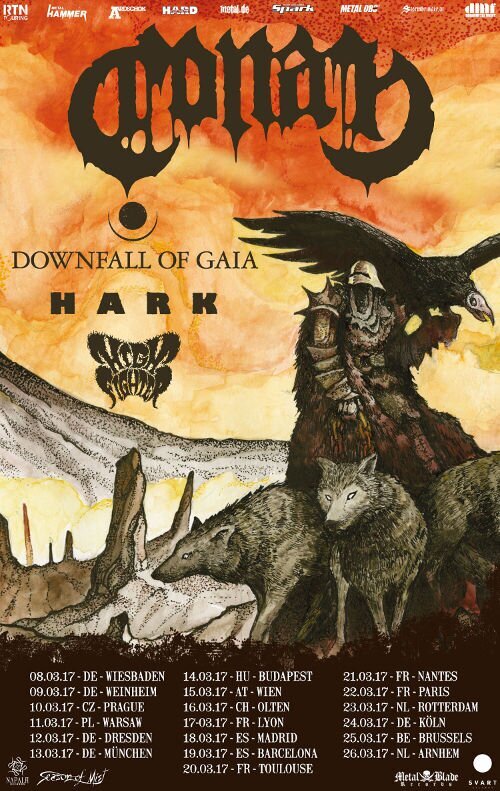 HARK + CONAN + DOWNFALL OF GAIA
08 Mar 17 Wiesbaden (DE) Schlachthof
09 Mar 17 Weinheim (DE) Café Central
10 Mar 17 Prague (CZ) 007
11 Mar 17 Warsaw (PL) Poglos
12 Mar 17 Dresden (DE) Puschkin
13 Mar 17 München (DE) Feierwerk
14 Mar 17 Budapest (HU) Durer Kert
15 Mar 17 Vienna (AT) Arena
16 Mar 17 Olten (CH) Coq D'Or
17 Mar 17 Lyon (FR) TBA
18 Mar 17 Madrid (ES) Chango
19 Mar 17 Barcelona (ES) Boveda
20 Mar 17 Toulouse (FR) Rex
21 Mar 17 Nantes (FR) Le Ferrailleur
22 Mar 17 Paris (FR) Boule Noire
23 Mar 17 Rotterdam (NL) Baroeg
24 Mar 17 Köln (DE) MTC
25 Mar 17 Brussel (BE) Magasin 4
26 Mar 17 Arnhem (NL) Willemeen
'Machinations' can be pre-ordered in various formats from the Season of Mist shop.
Cover artwork and track-list can be viewed below.
Fortune Favours The Insane
Disintegrate
Nine Fates
Speak In Tongues
Transmutation
Son Of Pythagoras
Premonitions
Comnixant 3.0
The Purge
Join HARK on their official Facebook page
View Hark