HARK – Machinations – February 22, 2017
Posted on February 22, 2017
More information about Machinations
HARK have premiered their forthcoming sophomore album in full via the highly-respected UK newspaper The Independent in combination with an in-depth feature and interview at the link below. The Welsh heavy rockers will release 'Machinations' on February 24th.
Listen to 'Machinations' via the Independent here!
Artwork and track-list of 'Machinations' can be viewed below.
Fortune Favours The Insane
Disintegrate
Nine Fates
Speak In Tongues
Transmutation
Son Of Pythagoras
Premonitions
Comnixant 3.0
The Purge
HARK have previously announced three UK release shows in early March that will be followed by a British headlining tour joined by OHHMS in April. These dates complement the already published European run in support of CONAN and DOWNFALL OF GAIA in March 2017. A full list of confirmed dates can be found below.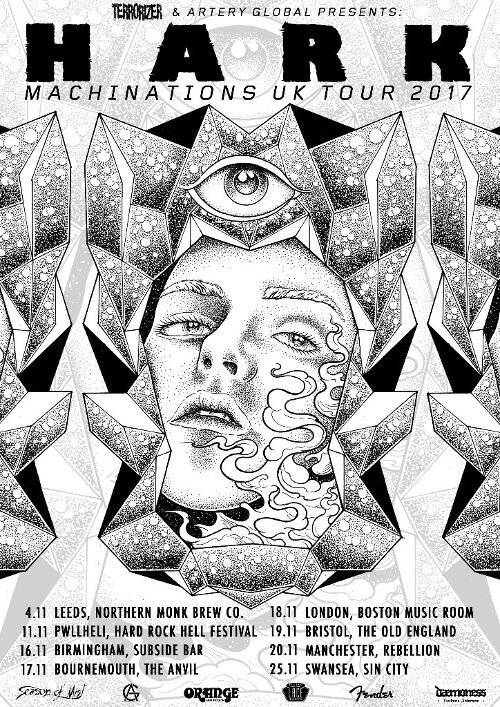 HARK Release Shows
03 Mar 17 Bristol (UK) Exchange (+Nick Oliveri +Groundhogs)
04 Mar 17 Swansea (UK) The Scene (+Sigiriya)
05 Mar 17 London (UK) Old Blue Last (+Taman Shud+ Harrowed et. al.)
HARK UK + OHHMS
12 Apr 17 Plymouth (UK) Underground
13 Apr 17 Nottingham (UK) Chameleon
14 Apr 17 Liverpool (UK) EBGB's
15 Apr 17 Leeds (UK) Temple of Boom
HARK + CONAN + DOWNFALL OF GAIA
08 Mar 17 Wiesbaden (DE) Schlachthof
09 Mar 17 Weinheim (DE) Café Central
10 Mar 17 Praha (CZ) 007
11 Mar 17 Warszawa (PL) Poglos
12 Mar 17 Dresden (DE) Puschkin
13 Mar 17 München (DE) Feierwerk
14 Mar 17 Budapest (HU) Durer Kert
15 Mar 17 Wien (AT) Arena
16 Mar 17 Olten (CH) Coq D'Or
17 Mar 17 Marseille (FR) Jas Rod
18 Mar 17 Madrid (ES) Chango
19 Mar 17 Barcelona (ES) Boveda
20 Mar 17 Toulouse (FR) Rex
21 Mar 17 Nantes (FR) Le Ferrailleur
22 Mar 17 Paris (FR) Boule Noire
23 Mar 17 Rotterdam (NL) Baroeg
24 Mar 17 Köln (DE) MTC
25 Mar 17 Bruxelles (BE) Magasin 4
26 Mar 17 Arnhem (NL) Willemeen
'Machinations' can be ordered in various formats from the Season of Mist shop.
Join HARK on their official Facebook page!
View Hark