HARK – Machinations – March 20, 2017
Posted on March 20, 2017
More information about Machinations
HARK have kicked off their previously announced European tour which sees the band playing alongside CONAN and DOWNFALL OF GAIA in support of their latest release 'Machinations'.
The Welsh heavy rockers embarked on their road-trip in Germany at the Schlachthof in Wiesbaden and continue throughout nine more countries before a final curtain at the Willemeen in Arnhem, the Netherlands on the 26th of March. A full list of confirmed dates can be found below.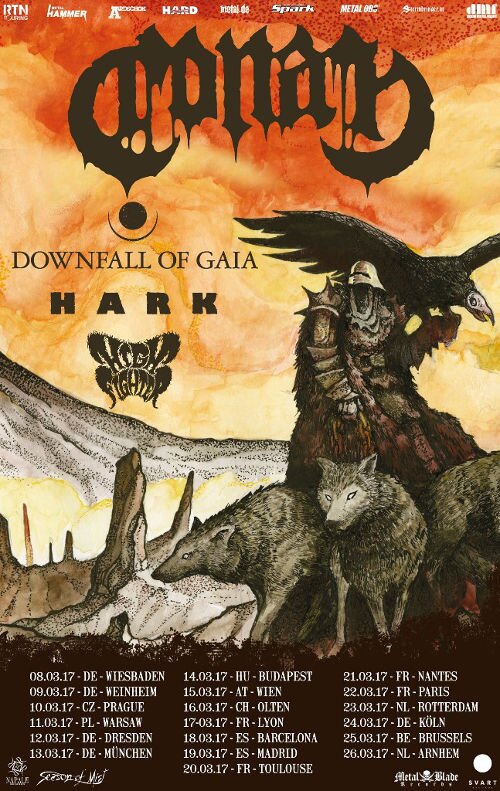 20 Mar 17 Toulouse (FR) Rex
21 Mar 17 Nantes (FR) Le Ferrailleur
22 Mar 17 Paris (FR) Boule Noire
23 Mar 17 Rotterdam (NL) Baroeg
24 Mar 17 Köln (DE) MTC
25 Mar 17 Brussel (BE) Magasin 4
26 Mar 17 Arnhem (NL) Willemeen
HARK is touring in support of their forthcoming full-length 'Machinations', which was released on February 24th. Album details can be found below.
Fortune Favours The Insane
Disintegrate
Nine Fates
Speak In Tongues
Transmutation
Son Of Pythagoras
Premonitions
Comnixant 3.0
The Purge
'Machinations' can still be ordered in various formats from the Season of Mist shop.
Join HARK on their official Facebook page!
View Hark