HARK – Machinations – September 20, 2017
Posted on September 20, 2017
More information about Machinations
HARK have conjured a sorcerous new video for the track "Nine Fates" taken from their current album, 'Machinations'. The Welsh rock shamans are streaming their fantastic clip at the link below.
Watch the new video here!
HARK mastermind Jimbob comments: "While 'Machinations' has an overarching theme of technological overload, the deeper levels of lyrical matter point towards both spiritual and ancestral foundations. 'Nine Fates' digs further beneath the surface, and with that we took the video shoot to our homelands of Wales, to evoke the ancestral voices that can speak through us, if we let them. Being control freaks and creativity junkies, we directed, shot and edited the video ourselves. HARK is as always a hands-on entity. Other than collaborating with some close allies on the VFX, we made every inch of this video ourselves. Like the depicted Shaman conjuring her majik in the forest, we conjured this video from an unspoken part of our collective psyche. The nine fates will be done."
HARK have previously announced more UK shows in support of their latest release 'Machinations' this November. A full list of confirmed dates can be found below.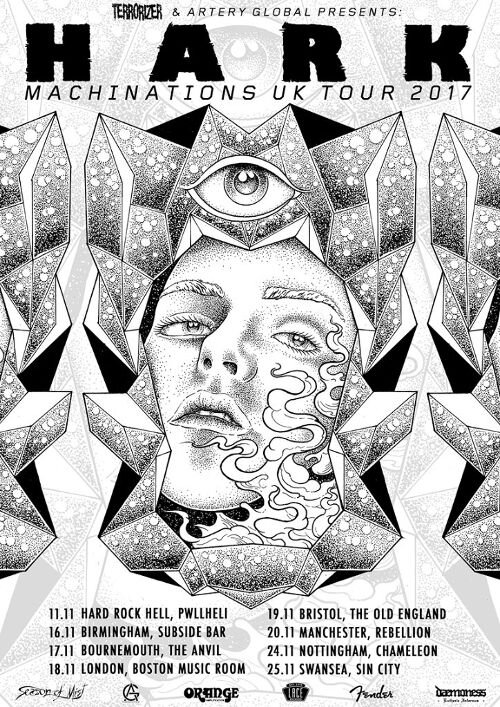 HARK
11 Nov 17 Pwllheli (UK) Hard Rock Hell Festival
16 Nov 17 Birmingham (UK) Subside Bar
17 Nov 17 Bournemouth (UK) The Anvil
18 Nov 17 London (UK) Boston Music Room
19 Nov 17 Bristol (UK) The Old England
20 Nov 17 Manchester (UK) Rebellion
24 Nov 17 Nottingham (UK) Chameleon
25 Nov 17 Swansea (UK) Sin City
HARK will be touring in support of their full-length 'Machinations' which was released on February 24 2017. Album details can be found below.
Fortune Favours The Insane
Disintegrate
Nine Fates
Speak In Tongues
Transmutation
Son Of Pythagoras
Premonitions
Comnixant 3.0
The Purge
'Machinations' can still be ordered in various formats from the Season of Mist shop
Join HARK on their official Facebook page!
View Hark