HATE ETERNAL – Infernus – October 29, 2015
Posted on October 29, 2015
More information about Infernus
HATE ETERNAL have announced that Hannes Grossmann will replace Chason Westmoreland on their North American tour with label mates MISERY INDEX and BEYOND CREATION. Chason has chosen to leave the band due to important family matters.
The German drum progeny (ALKALOID, BLOTTED SCIENCE, ex-OBSCURA, ex-NECROPHAGIST) comments on this collaboration: "I am absolutely stoked to play with HATE ETERNAL!", says Hannes Grossmann. "They are an iconic and genre-defining band in death metal. Erik and J.J. are phenomenal players and great guys. We have been rehearsing all week at Mana Recording Studios, and it has been amazing thus far. I worked really hard to play these songs the right way and I cannot wait to finally present them to fans across North America. See you on tour!"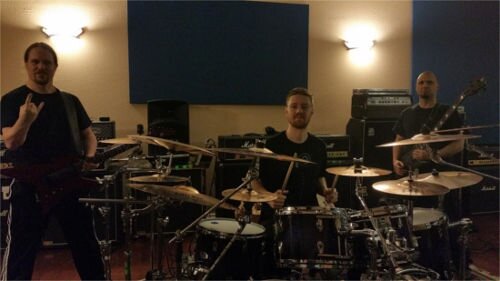 Erik Rutan continues: "Hannes is an incredible drummer, amazing person, and absolute professional. We had the fortune of touring with OBSCURA many years ago and got to witness firsthand the kind of pedigree Hannes is as a musician. Rehearsal is going great and we could not be more excited about getting out there on our first headlining tour for our new album 'Infernus' with Hannes behind the kit! Hope to see you all out there on the road!"
HATE ETERNAL have already kicked off their "Infernus World Tour" across the North of Amervica. The death metal legends will be joined by label mates MISERY INDEX and BEYOND CREATION as well as RIVERS OF NIHIL. Check out the complete lists of shows including ticket links below.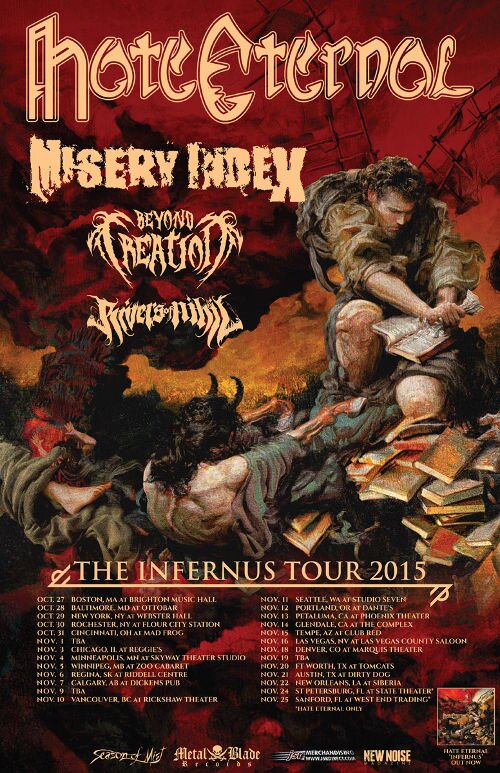 HATE ETERNAL +MISERY INDEX +BEYOND CREATION +RIVERS OF NIHIL
29 Oct 15 New York, NY (US) The Studio at Webster Hall – Buy tickets here
30 Oct 15 Rochester, NY (US) Flour City Station – Buy tickets here
31 Oct 15 Cincinnati, OH (US) Mad Frog Cincinnati – Buy tickets here
03 Nov 15 New Baltimore (Detroit),MI (US) Diesel Concert Lounge Detroit – Buy tickets here
03 Nov 15 Chicago, IL (US) Reggies Live – Buy tickets here
04 Nov 15 Minneapolis, MN (US) Skyway Theatre – Buy tickets here
05 Nov 15 Winnipeg, MB (CA) Osborne Village Inn – Buy tickets here
06 Nov 15 Regina, SK (CA) Riddell Centre – Buy tickets here
07 Nov 15 Calgary, AB (CA) Dickens Pub – Buy tickets here
10 Nov 15 Vancouver, BC (CA) Rickshaw Theatre – Buy tickets here
11 Nov 15 Seattle, WA (US) Studio Seven – Buy tickets here
12 Nov 15 Portland, OR (US) Dante's – Buy tickets here
13 Nov 15 Petaluma, CA (US) The Phoenix Theater – Buy tickets here
14 Nov 15 Glendale, CA (US) Complex – Buy tickets here
15 Nov 15 Tempe, AZ (US) Club Red Theaters (+Cattle Decapitation) – Buy tickets here
16 Nov 15 Las Vegas, NV (US) LVCS – Buy tickets here
18 Nov 15 Denver, CO (US) Marquis Theatre – Buy tickets here
19 Nov 15 Lubbock,TX (US) Depot Obar Live
20 Nov 15 Ft. Worth, TX (US) Tomcats West – Buy tickets here
21 Nov 15 Austin, TX (US) Dirty Dog Bar – Buy tickets here
22 Nov 15 New Orleans, LA (US) Siberia – Buy tickets here
24 Nov 15 St Petersburg, FL (US) State Theatre Saint Petersburg (Hate Eternal only) – Buy tickets here
25 Nov 15 Sanford, FL (US) West End Trading Co. (Hate Eternal only) – Buy tickets here
HATE ETERNAL will be touring in support of their highly acclaimed current album 'Infernus', which can be ordered in various formats including strictly limited editions directly from the Season of Mist shop.
Main man Erik Rutan comments on 'Infernus': "The recording process has been fantastic. I have never felt so focused and determined on a HATE ETERNAL record, and I know that this will be an album our listeners and supporters will truly appreciate. It represents an important milestone for me personally since 15 years ago both HATE ETERNAL began recording its first album and Mana Recording Studios was born. We have so much more news to share with you over the coming months. We are super proud of what we have accomplished creatively, and excited at the prospect of releasing what we feel is our most powerful HATE ETERNAL material to date."
The American death metal legend has previously unveiled the spectacular artwork for 'Infernus', which was created by renowned artist Eliran Kantor (ATHEIST, TESTAMENT, ICED EARTH, SODOM, and many more). His cover painting as well as the simultaneously revealed tracklist of the new album can both be viewed below.
Locust Swarm
The Stygian Deep
Pathogenic Apathy
La Tempestad
Infernus
The Chosen One
Zealot, Crusader Of War
Order Of The Arcane Scripture
Chaos Theory
O' Majestic Being, Hear My Call
Follow HATE ETERNAL on Facebook.
View Hate Eternal