HATE ETERNAL – Infernus – May 7, 2018
Posted on May 7, 2018
More information about Infernus
HATE ETERNAL have announced new European tour dates in support of their latest release 'Infernus'. The US death metal giants will kick off their rampage at the Backstage in München, Germany on July 23 and continue to devastate three more European countries until a final onslaught at the French Sylak Open Air in Saint-Maurice-de-Gourdans on the 4th of August.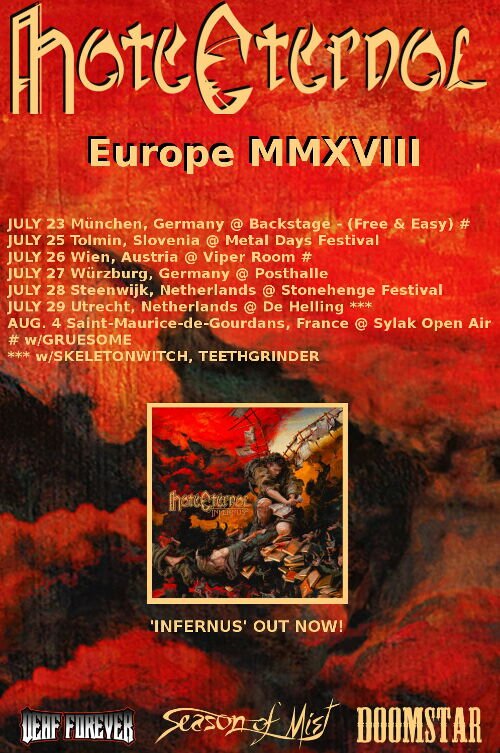 HATE ETERNAL tour dates
23 Jul 18 München (DE) Free and Easy Festival 2018 (+Gruesome)
25 Jul 18 Tolmin (SI) Metal Days 2018
26 Jul 18 Wien (AT) Viper Room
27 Jul 18 Würzburg (DE) Posthalle
28 Jul 18 Steenwijk (NL) Stonehenge Festival 2018
29 Jul 18 Utrecht (NL) De Helling (+Skeletonwitch +Teethgrinder)
04 Aug 18 Saint Maurice de Gourdans (FR) Sylak Open Air 2018
HATE ETERNAL are touring in support if their latest album 'Infernus'. The spectacular artwork for 'Infernus' has been created by renowned artist Eliran Kantor (TESTAMENT, ICED EARTH, SODOM). His cover painting can be viewed below.
Locust Swarm
The Stygian Deep
Pathogenic Apathy
La Tempestad
Infernus
The Chosen One
Zealot, Crusader Of War
Order Of The Arcane Scripture
Chaos Theory
O' Majestic Being, Hear My Call
'Infernus' can still be ordered in various formats from the Season of Mist shop.
Join HATE ETERNAL on their official Facebook page!
View Hate Eternal