HATE ETERNAL – Infernus – July 25, 2018
Posted on July 25, 2018
More information about Infernus
Death metal legends HATE ETERNAL have announced US tour dates. The 29 date tour begins on November 2 and sees HATE ETERNAL playing as main support to CANNIBAL CORPSE. A full list of confirmed tour dates can be found below.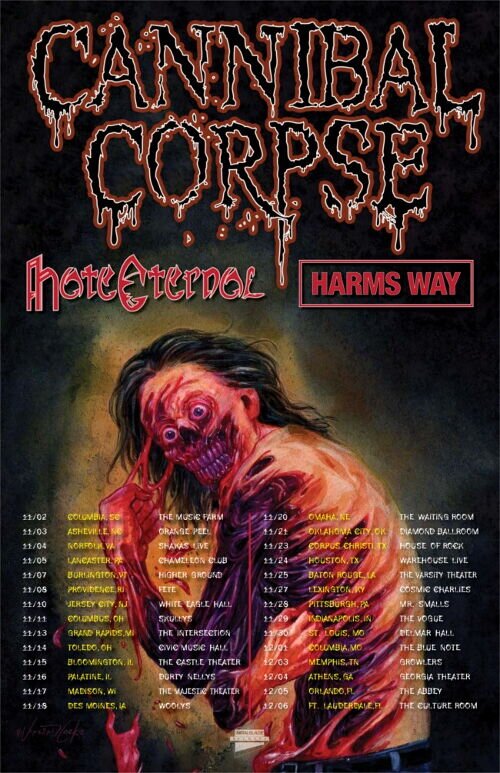 HATE ETERNAL with CANNIBAL CORPSE and HARMS WAY
02 Nov 18 Columbia, SC (US) The Music Farm
03 Nov 18 Asheville, NC (US) Orange Peel
04 Nov 18 Norfolk. VA (US) Shaka's
05 Nov 18 Lancaster, PA (US) Chameleon Club
07 Nov 18 Burlington, VT (US) Higher Ground
08 Nov 18 Providence, RI (US) Fete
09 Nov 18 Jersey City, NJ (US) White Eagle Hall
10 Nov 18 Rochester, NY (US) Anthology
11 Nov 18 Colombus, OH (US) Skully's
13 Nov 18 Grand Rapids, MI (US) The Intersection
14 Nov 18 Toledo, OH (US) Civic Music Hall
15 Nov 18 Bloomington, IL (US) The Castle Theater
16 Nov 18 Palatine, IL (US) Durty Nelly's
17 Nov 18 Madison, WI (US) The Majestic Theater
18 Nov 18 Des Moines, IA (US) Wooly's
20 Nov 18 Omaha, NE (US) The Waiting Room
21 Nov 18 Oklahoma City, OK (US) Diamond Ballroom
23 Nov 18 Corpus Christi, TX (US) House of Rock
24 Nov 18 Houston, TX (US) Warehouse Live
25 Nov 18 Baton Rouge, LA (US) The Varsity Theater
27 Nov 18 Lexington, KY (US) Cosmic Charlies
28 Nov 18 Pittsburgh, PA (US) Mr Smalls Theater
29 Nov 18 Indianapolis, IN (US) The Vogue
30 Nov 18 St Louis, MO (US) Delmar Hall
01 Dec 18 Columbia, MO (US) The Blue Note
03 Dec 18 Memphis, TN (US) Growlers
04 Dec 18 Athens, GA (US) Georgia Theater
05 Dec 18 Orlando, FL (US) The Abbey
06 Dec 18 Ft Lauderdale, FL (US) The Culture Room
HATE ETERNAL will be touring in support of their new album coming out on Season of Mist this year. The band has previously released the record 'Infernus' in 2015.
'Infernus' is still available at the Season of Mist shop in various formats.
Join HATE ETERNAL on their official Facebook page
View Hate Eternal