HEILUNG – Lifa – March 29, 2019
Posted on March 29, 2019
More information about Lifa
HEILUNG have released an album teaser for their new offering 'Futha'. The record is set for worldwide release via Season of Mist on June 28, 2019. The teaser can be found at the link below.
Find the trailer on the official Season of Mist Youtube channel HERE
The band states: 'Futha' was three years in the making and was finished in the dark, Danish midwinter. But after darkness comes light, after winter comes spring, after suffering comes relief, after 'Ofnir' comes 'Futha'. Here's what the spirits has to say about it!
On the meaning of the album title, HEILUNG comment: "The majority of full rune set inscriptions start with 'Futha', and is known to us as the first four letters in all runic alphabets. It is considered that our forefathers saw magic potential in engraving the full rune line, but there is also great significance in the beginnings. Science has no key for the meaning of only engraving the first couple of letters yet, but there is, of course, a surplus of theories. One of the theories we found inspiration in, is that 'Futha' holds the meaning of fertility and female gender. As 'Ofnir' focused on war and masculine notions, the great healing power of female wild strength is evoked in Futha. Those who have been present at a birth or have seen lionesses hunting know the spirit, and we welcome and embrace it in the sounds that were born during the creation of 'Futha'."
HEILUNG have previously announced a European tour in October and November this year. The tour will kick off on October 22nd in Warsaw (PL) and will end about a month later in Paris (FR). Find the full list of tour dates below.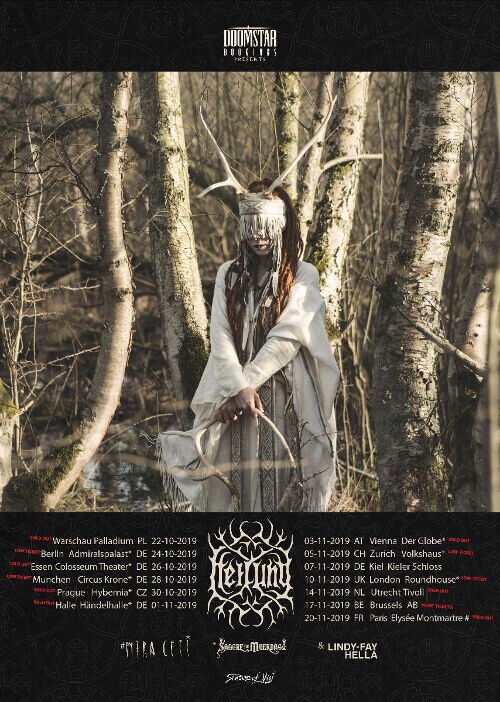 HEILUNG European tour
22 Oct 19 Palladium (PL) Warschau
24 Oct 19 Berlin (DE) Admiralspalast
26 Oct 19 Essen (DE) Colosseum Theater
28 Oct 19 Munich (DE) Circus Krone
30 Oct 19 Prague (CZ) Hybernia
01 Nov 19 Halle (DE) Händelhalle
03 Nov 19 Vienna (AT) Der Globe
05 Nov 19 Zurich (CH) Volkshaus
07 Nov 19 Kiel (DE) Kieler Schloss
10 Nov 19 London (UK) Roundhouse
17 Nov 19 Brussels (BE) AB
20 Nov 19 Paris (FR) Elysée Montmartre
HEILUNG performances 2019
11 Apr 19 Tilburg (NL) Roadburn Festival
17 Apr 19 St. Petersburg (RU) Aurora
19 Apr 19 Moscow (RU) Arbat Hall
20 Jun 19 Copenhagen (DK) Copenhell Festival 2019 (Exact date TBA)
29 Jun 19 Helsinki (FI) Tuska 2019 (Exact date TBA)
18 Aug 19 Borre (NO) Midgardsblot 2019 (Exact date TBA)
07 Sep 19 Selb (DE) Mediaval Festival 2019 (Exact date TBA)
19 Oct 19 Hameln (DE) Autumn Moon Festival 2019 (Exact date TBA)
HEILUNG latest debut full-length, 'Ofnir' (2015) has been re-released by Season of Mist and can still be ordered in the Season of Mist shop.
Join HEILUNG on their official Facebook page.
View Heilung