HEILUNG – Futha – October 22, 2019
Posted on October 22, 2019
More information about Futha
HEILUNG are kicking off their European tour in Warsaw (PL) today, Tuesday October 22nd. The tour will end about a month later in Paris (FR) on the 20th of November. HEILUNG will be playing in support of their recent release, 'Futha', which was released earlier this year.
The shows in Warsaw (PL), Essen (DE), Prague (CZ), Halle (DE), Vienna (AT) Utrecht (NL), and Paris (FR) are already sold out. Tickets for the remaining shows are also running low.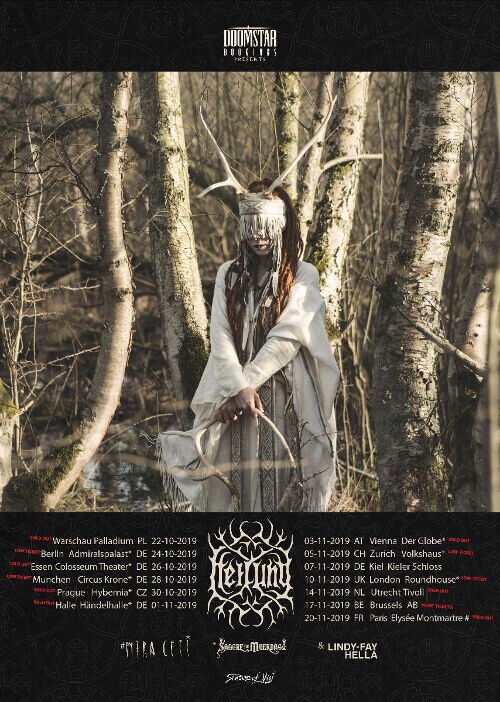 HEILUNG European tour
22 Oct 19 Palladium (PL) Warschau (Sold out)
24 Oct 19 Berlin (DE) Admiralspalast *
26 Oct 19 Essen (DE) Colosseum Theater (Sold out)*
28 Oct 19 Munich (DE) Circus Krone *
30 Oct 19 Prague (CZ) Divadlo Hybernia (Sold out)*
01 Nov 19 Halle (DE) Händelhalle (Sold out)*
03 Nov 19 Vienna (AT) The Vienna Globe (Sold out)*
05 Nov 19 Zurich (CH) Volkshaus *
07 Nov 19 Kiel (DE) Kieler Schloss *
10 Nov 19 London (UK) Roundhouse &
14 Nov 19 Utrecht (NL) Tivoli Vredenburg (Sold out)
17 Nov 19 Brussels (BE) Ancienne Belgique
20 Nov 19 Paris (FR) Elysée Montmartre (Sold out)#
* support: Sangre de Muerdago
& support: Lindy-Fay Hella
# support: Mira Ceti
HEILUNG live
06 Dec 19 Lviv (UA) Lviv State Circus
08 Dec 19 Kyiv (UA) Center of Culture and Arts NAU
14 Dec 19 Copenhagen (DK) Amager Bio (Sold out)
18 Feb 20 York (UK) Descended from Odin Festival (Exact date TBA)
22 Feb 20 York (UK) Jorvink Viking Festival
10 Apr 20 Rouen (FR) Le 106
12 Apr 20 Toulouse (FR) Echos Et Merveilles Festival
16 May 20 Metz (FR) Cire Musicale -Bam
20 Aug 20 St.-Nolff (FR) Motocultor Festival 2020 (Exact date TBA)
HEILUNG will be touring in support of their new album 'Futha', which can be ordered in the Season of Mist shop.
Join HEILUNG on their official Facebook page.
View Heilung