HIEROPHANT – New Signing – October 23, 2015
Posted on October 23, 2015
Season of Mist are proud to announce the signing of HIEROPHANT. The Italian extremists will release their next full-length on this label.
Regarding their signing, HIEROPHANT comment: "We are very pleased to be part of the Season of Mist family. We thank all those who have supported us, worked with us, and contributed to the growth of our band. A very special thank you goes to Michael Berberian and all the very kind staff at Season of Mist for the warm welcome, for believing in us, and for giving us this great opportunity." HIEROPHANT have already announced tour-dates in Australia at the end of this year and in Italy early 2016. Please see below for a full list of shows.
AUSTRALIAN TOUR
10 Dec 15 New Castle (AU) Hamilton Hotel
11 Dec 15 Brisbane (AU) The Back Room
13 Dec 15 Sydney (AU) Valve Bar
15 Dec 15 Sydney (AU) Black Wire Records
16 Dec 15 Canberra (AU) Transit
17 Dec 15 Melbourne (AU) The Bendigo
18 Dec 15 Melbourne (AU) Secret Location
19 Dec 15 Adelaide (AU) Metro
20 Dec 15 Perth (AU) Four 5 Nine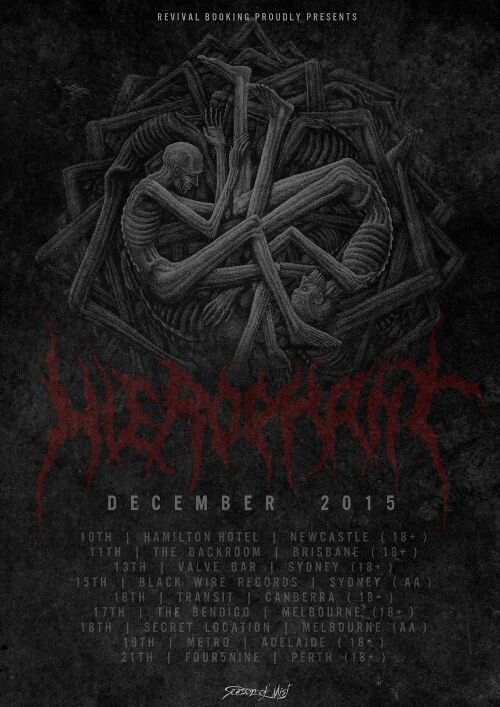 ITALIAN TOUR
15 Jan 16 Schio (VI) (IT) CSA Arcadia
16 Jan 16 Casalecchio (BO) (IT) Spazio Eco
21 Jan 16 Perugia (IT) Ex Mattatoio
22 Jan 16 Carugate (MB) (IT) Arci Area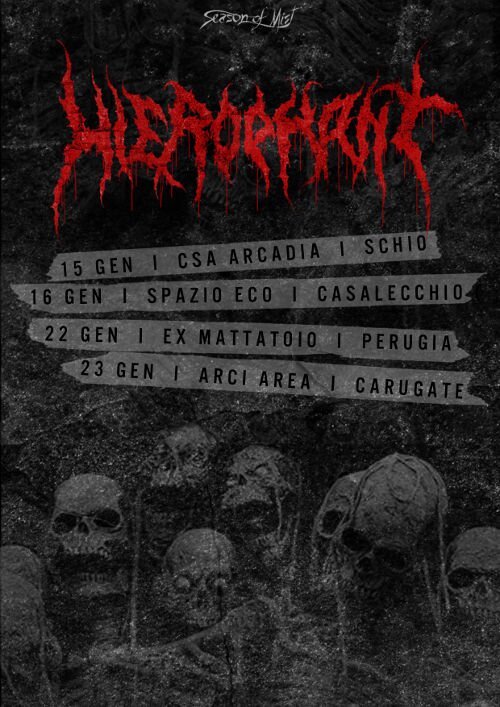 HIEROPHANT have been conceived in the classic Adriatic city of Ravenna in the Emilia-Romagna in 2010.
The band quickly left a mark as one of the leading exponents of extreme Italian music. A first self-titled full-length was released in the same year as their founding and the band started to constantly play all over Europe. HIEROPHANT were also picked up on the other side of the pond. Following the EP 'Son of the Carcinoma' (2013), their sophomore album 'Great Mother: Holy Monster' (2013) was also released in North America.
Several tours and festival shows later, the Italians showed no sign of relenting. Their third full-length 'Peste' (2014) rather increased the band's massive sonic impact, amalgamating sludge, black metal and a definite punk attitude. HIEROPHANT are currently working hard on their next album.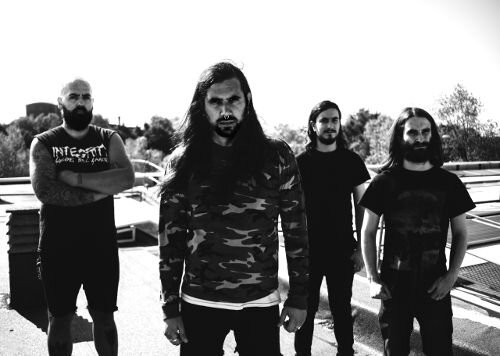 Line-up
Lorenzo: vocals, guitar
Ben: drums
Steve: guitar
Giacomo: bass, backing vocals
Join HIEROPHANT on Facebook and visit Instagram!
View Hierophant