HIEROPHANT – Mass Grave – October 17, 2016
Posted on October 17, 2016
More information about Mass Grave
HIEROPHANT have premiered the third sinister song taken from their new full-length 'Mass Grave'. The raw Italian death metal outfit will release their fourth full-length on the 4th of November.
The track "Crematorium" is exclusively streaming via the official media partners listed below.
Metal Obsession (AU)
Diablorock (ES)
Metalliluola (FI)
Horns-Up (FR)
Kronos Mortus (HU)
Kvlt (PL)
Zero Tolerance (UK)
Cvlt Nation (US)
HIEROPHANT comment: "On a sonic level as well as lyrically, 'Crematorium' deals with the idea that the world we live in and life as we know it are just a temporary phase before incineration. We all are caught up in an unstoppable march towards the end, where everything is destined to disappear and turn into nothing once again."
Hymn of Perdition
Execution of Mankind
Forever Crucified
Mass Grave
Crematorium
In Decay
Sentenced to Death
The Great Hoax
Trauma
Eternal Void
HIEROPHANT have announced a special release show at the Bronson Club in their hometown Ravenna on November 4th in addition to their previously published European tour in support of their new album 'Mass Grave' alongside RINGWORM and NOISEM. All currently announced dates can be seen below.
04 Nov 16 Ravenna (IT) Bronson Club (release show with special guests)
19 Nov 16 Roeselare (BE) De verlichte Geest
21 Nov 16 Nantes (FR) Scene Michelet
22 Nov 16 Montpelier (FR) Secret Place
24 Nov 16 Zurich (CH) Werk21
25 Nov 16 Liege (BE) Reflektor Club
26 Nov 16 Rotterdam (NL) Baroeg
27 Nov 16 Drachten (NL) Iduna
30 Nov 16 Bydgoszcz (PL) Estrada
02 Dec 16 Hamburg (DE) Indra
03 Dec 16 Duisburg (DE) JUZ St. Peter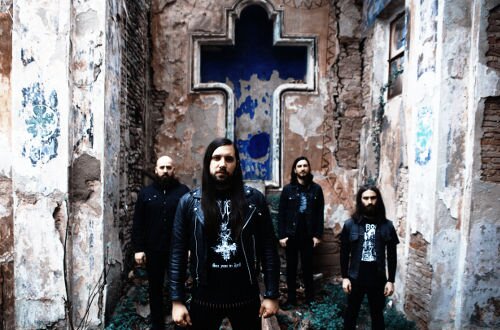 Line-up
Lorenzo: vocals, guitar
Ben: drums
Steve: guitar
Giacomo: bass, backing vocals
'Mass Grave' can be pre-ordered on the Season of Mist shop.
Join HIEROPHANT on their official Facebook page.
View Hierophant