HIEROPHANT – Mass Grave – November 22, 2016
Posted on November 22, 2016
More information about Mass Grave
HIEROPHANT have kicked off their European tour in support of their brand-new full-length 'Mass Grave'. The Italian death fanatics will continue alongside RINGWORM and NOISEM through seven countries. A full list of confirmed shows can be found below.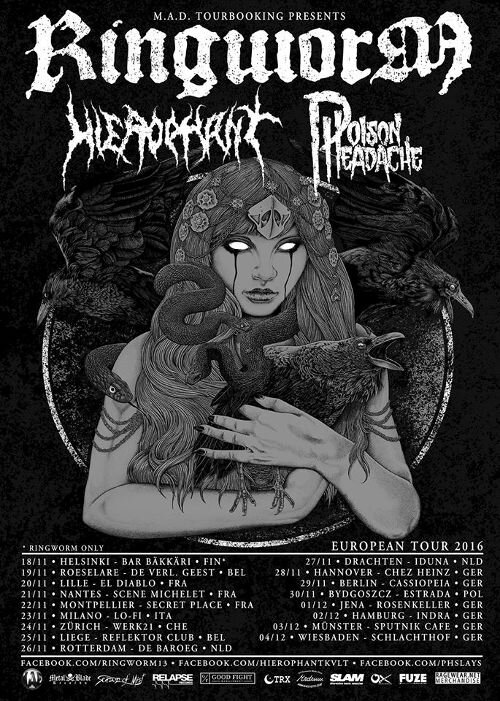 HIEROPHANT + RINGWORM + NOISEM
22 Nov 16 Montpelier (FR) Secret Place
23 Nov 16 Milano (IT) Lo-Fi Club
24 Nov 16 Zürich (CH) Werk21
25 Nov 16 Liege (BE) Reflektor Club
26 Nov 16 Rotterdam (NL) Baroeg
27 Nov 16 Drachten (NL) Iduna
28 Nov 16 Hannover (DE) Chez Heinz
29 Nov 16 Berlin (DE) Cassiopeia
30 Nov 16 Bydgoszcz (PL) Estrada
01 Dec 16 Jena (DE) Rosenkeller
02 Dec 16 Hamburg (DE) Indra
03 Dec 16 Münster (DE) Sputnik Cafe
04 Dec 16 Wiesbaden (DE) Schlachthof
HIEROPHANT Festival Show
17 Dec 16 Montefiore (IT) Unholy Rites Fest
'Mass Grave', which was released on November 4th, is streaming in full via BandCamp. The artwork of 'Mass Grave' can be viewed together with the track-list below.
Hymn of Perdition
Execution of Mankind
Forever Crucified
Mass Grave
Crematorium
In Decay
Sentenced to Death
The Great Hoax
Trauma
Eternal Void
'Mass Grave' can be ordered in various formats from the Season of Mist shop.
Join HIEROPHANT on their official Facebook page.
View Hierophant