HORRENDOUS – Idol – August 28, 2018
Posted on August 28, 2018
More information about Idol
HORRENDOUS have announced tour dates this fall, in support of their upcoming release 'Idol' . The tour begins on Nov. 8, and sees the band hitting Worcester, Philadelphia, New York, and D.C. Support on this tour comes from TOMB MOLD. A full list of confirmed dates can be found below.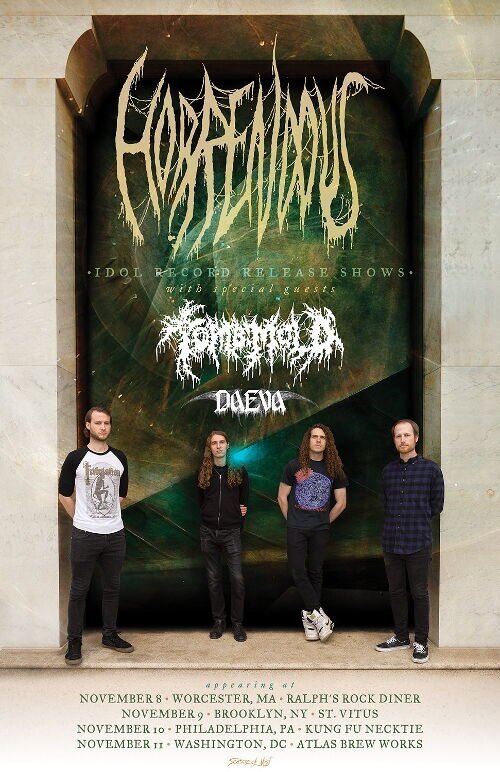 HORRENDOUS with TOMB MOLD and DAEVA
08 Nov 18 Worcester, MA (US) Ralph's Rock Diner
09 Nov 18 Brooklyn, NY (US) St. Vitus
10 Nov 18 Philadelphia, PA (US) Kung Fu Necktie
11 Nov 18 Washington, DC (US) Atlas Brew Works
Regarding the dates, HORRENDOUS drummer Jamie Knox comments, "Except for a few one-offs, these dates represent our first performances since the 2017 Decibel Tour. We spent the intervening year crafting and recording Idol, so we are beyond excited to dust off our axes and play some new tunes live for the first time."
HORRENDOUS are touring in support of their forthcoming new album, 'Idol'. The artwork and tracklist of the record have previously been revealed and can be watched below.
...Prescience
Soothsayer
The Idolater
Golgothan Tongues
Divine Anhedonia
Devotion (Blood for Ink)
Threnody...
Obolus
'Idol' is available for pre-ordering in the Season of Mist shop .
Join HORRENDOUS on their official Facebook page .
View Horrendous