IMPURE WILHELMINA – New Signing – May 7, 2015
Posted on May 7, 2015
Season of Mist are proud to announce the signing of IMPURE WILHELMINA! The Swiss rock and post-core veterans have already begun working on their next album, which title and release date will be announced later on.
Regarding the signing, IMPURE WILHELMINA comment: "What a great opportunity! We are delighted to announce to have signed with Season of Mist. We are honored to write our name on the roster of a label that promotes so many inspiring bands. Season of Mist is at the crossroads of numerous metal streams that have strongly contributed to forge our specific sound. This new home seems to suit us perfectly! This collaboration encourages us immensely in working on our next album that we've already started writing…"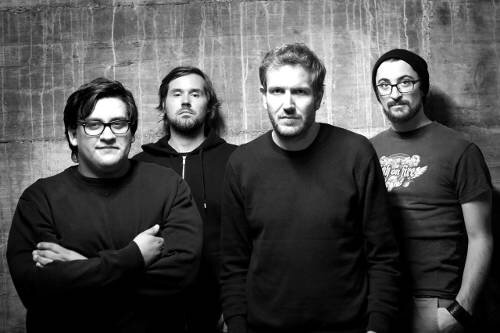 IMPURE WILHELMINA have been creating music on the border between rock and metal for over 15 years. Founded by vocalist and guitarist Michael Schindl and his brother David on drums in the year 1996, the band from Geneva made a strong impact with their self-released debut album 'Afraid' (1999), which saw the Swiss being regarded on the same level with compatriots such as NOSTROMO and KNUT from the local metallic hardcore scene.
During the next years, the line-up of IMPURE WILHELMINA underwent many changes, while revolving around main composer and lyricist Michael Schindl. These creative encounters allowed the band to endlessly rethink their direction and turn each of their albums into a singular piece, while keeping a unique touch, mixing intensity, heaviness, melody and melancholy.
IMPURE WILHELMINA released a self-titled 7″ in 1996, the MCD 'Undressing Your Soul' (1998), a split-MCD with ORDEAL in 2001, and five full-lengths so far. The critically acclaimed 'I Can't Believe I Was Born in July' (2003) and 'L'amour, la mort, l'enfance perdue' (2005) have been viewed as key albums regarding the band's style, while 'Prayers and Arsons' (2008) marked a new step in their evolution with the inclusion of more rock elements. Not resting on their laurels, IMPURE WILHELMINA generated much enthusiasm and surprise with their recently released full-length 'Black Honey', which was first released on vinyl in 2014 followed by a CD in 2015. This album features more prominent and clean singing. Overall less aggressive, 'Black Honey' boosts emotional intensity and melodic atmospheres, while revealing multiple new facets of the band.
Over the years, IMPURE WILHELMINA have garnered an excellent reputation as a particularly strong live entity and shared stages with illustrious groups such as NEUROSIS, ENTOMBED, THE OCEAN, GOJIRA, ISIS, ZATOKREV and KRUGER.
IMPURE WILHELMINA are currently working on new material.
Terrorizer (UK) had this to say about IMPURE WILHELMINA:
"'Black Honey', their fifth full-length to date, represents the culmination of 17 years of the band's personal and musical growth, wherein their trademark blend of intricate, yet emotional metallic hardcore and oppressive sludge stomp has been overtaken – but by no means overwhelmed – by the shimmering pop sensibilities that have always lurked beneath the surface of the band's heartfelt compositions."
Line-up
Michael Schindl: vocals, guitar
Mario Togni: drums
Sebastien Dutruel: bass guitar
Diogo Almeida: guitar
Follow IMPURE WILHELMINA on Facebook!
View Impure Wilhelmina