INQUISITION are now revealing the artwork of the reissue of their highly praised sophomore full-length 'Invoking the Majestic Throne of Satan', which has been scheduled for release on February 23rd, 2015 (one day later in North America). This is part of Season of Mist exclusively releasing the official catalogue of the US black metal prodigies.
'Invoking the Majestic Throne of Satan' will come as all reissues will with new artwork by the renowned artist Paolo Girardi, who already created the cover art for INQUISITION's latest album 'Obscure Verses For The Multiverse' (2013). The original artwork will be included as well with each re-release. Girardi's covers are part of an overarching concept and should be seen in conjunction. More details about his mysterious work will be revealed with the final re-release. His cover for 'Invoking the Majestic Throne of Satan' can be viewed below:
Embraced by the Unholy Powers of Death and Destruction
Enshrouded by Cryptic Temples of the Cult
Kill with Hate
Rituals of Human Sacrifice for Lord Baal
Invoking the Majestic Throne of Satan
Hail the King of All Heathens
The Realm of Shadows Shall Forever Reign
For Lucifer My Blood
Imperial Hymn for Our Master Satan
The reissue of INQUISITION's debut album 'Into The Infernal Regions Of The Ancient Cult', which was originally released in 1998 will be available on January 26th, 2015 and can now be pre-ordered from the Season of Mist shop. The album will come in various formats including strictly limited leather sleeves!
Unholy Magic Attack
Those Of The Night
The Initiation
Empire Of Luciferian Race
Summoned By Ancient Wizards Under A Black Moon
Journey To Infernukeorreka
Into The Infernal Regions Of The Ancient Cult
Mighty Wargod Of The Templars (Hail Baphomet)
Solitary Death In The Nocturnal Woodlands
Hail The Cult
Only the releases via Season of Mist are official. Every other edition is nothing but a bootleg and theft against the artist. The only notable exceptions are the US versions by American label Hells Headbangers Records. These will be replaced by Season of Mist editions at a later point in time.
On further news, INQUISITION have already announced headlining shows in Europe for January and February 2015. The black metal duo will be joined by the dark forces of Finland's ARCHGOAT, the legendary Swedes ONDSKAPT and BLACKDEATH from Russia. A full list of confirmed shows can be viewed below.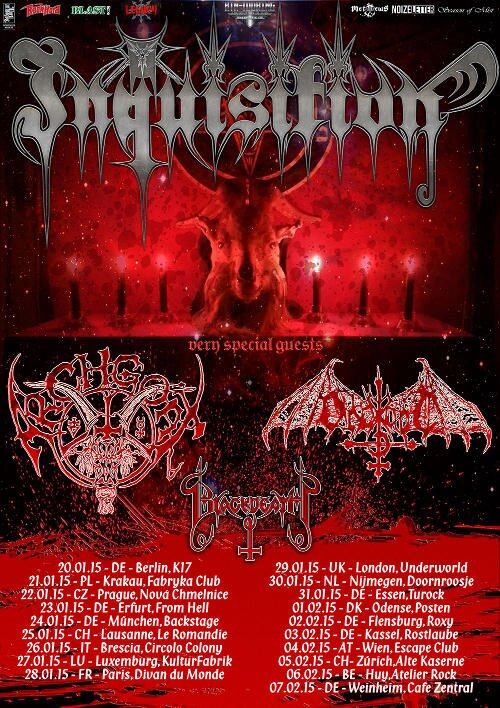 20 Jan 15 Berlin (DE) K17
21 Jan 15 Kraków (PL) Fabryka Club
22 Jan 15 Prague (CZ) Nová Chmelnice
23 Jan 15 Erfurt (DE) From Hell
24 Jan 15 München (DE) Backstage
25 Jan 15 Lausanne (CH) Le Romandie
26 Jan 15 Brescia (IT) Circolo Colony
27 Jan 15 Luxemburg (LU) KulturFabrik
28 Jan 15 Paris (FR) Divan du Monde
29 Jan 15 London (UK) Underworld
30 Jan 15 Nijmegen (NL) Doornroosje
31 Jan 15 Essen (DE) Turock
01 Feb 15 Odense (DK) Posten
02 Feb 15 Flensburg (DE) Roxy
03 Feb 15 Kassel (DE) Rostlaube
04 Feb 15 Wien (AU) Escape Club
05 Feb 15 Zürich (CH) Alte Kaserne
06 Feb 15 Huy (BE) Atelier Rock
07 Feb 15 Weinheim (DE) Cafe Zentral
Before embarking to hammer Europe, INQUISITION will ravage Australia with MARDUK:
12 Jan 15 Perth (AU) Amplifier Bar
13 Jan 15 Adelaide (AU) Enigma Bar
14 Jan 15 Melbourne (AU) Northcote Social Club
15 Jan 15 Hobart (AU) Brisbane Hotel (Special headlining show)
16 Jan 15 Melbourne (AU) HiFi Bar
17 Jan 15 Sydney (AU) HiFi Bar
18 Jan 15 Brisbane (AU) Crowbar
INQUISITION are touring in support of last year's 'Obscure Verses For The Multiverse' album, which is available in various formats via the Season of Mist shop.
Force Of The Floating Tomb
Darkness Flows Towards Unseen Horizons
Obscure Verses For The Multiverse
Spiritual Plasma Evocation
Master Of The Cosmological Black Cauldron
Joined By Dark Matter, Repelled By Dark Energy
Arrival Of Eons After
Inversion Of Ethereal White Stars
Infinite Interstellar Genocide
View Inquisition