KYLESA – Ultraviolet – April 15, 2014
Posted on April 15, 2014
More information about Ultraviolet
Critically-acclaimed, genre-defying quintet KYLESA has announced a summer European headlining tour. The tour, which begins on June 9th will see the band hitting various territories across Germany, Poland, Italy, France, Austria and more, before ending in Moscow on July 16th. Support on the tour will come from LAZER/WULF. A full list of tour dates can be found below.
KYLESA is touring in support of their newest record, 'Ultraviolet', which is the highest-charting record in the band's storied career, landing at #4 on Billboard's "Heat Seekers" chart, and impacting the Billboard top 200. 'Ultraviolet' is available on Season of Mist's e-shop (North American residents please click here) and streaming here. Track list and artwork are as follows:
Exhale
Unspoken
Grounded
We're Taking This
Long Gone
What Does It Take
Steady Breakdown
Low Tide
Vulture's Landing
Quicksand
Drifting
KYLESA released music videos for "Unspoken" and "Low Tide".
KYLESA European Tour Dates:
09 Jun 14 Braunschweig (DE) Kulturclub Hansa
10 Jun 14 Lyngby (DK) Temple
11 Jun 14 Malmö (SE) Babel
12 Jun 14 Oslo (SE) Vulkan Arena
13 Jun 14 Bergen (SE) Bergenfest
15 Jun 14 Kiel (DE) Pumpe
16 Jun 14 Drachten (NL) Iduna
17 Jun 14 Stuttgart (DE) Juha West
18 Jun 14 Siegen (DE) Vortex
19 Jun 14 Saarbrücken (DE) Garage
20 Jun 14 Clisson (FR) Hellfest
21 Jun 14 Vitoria (ES) Canopy
22 Jun 14 Porto (PT) Hard Club
23 Jun 14 Madrid (ES) Boite Live
24 Jun 14 Barcelona (ES) Razzmatazz 3
25 Jun 14 Toulouse (FR) Le Connexion
26 Jun 14 Montpellier (FR) La Taf
27 Jun 14 Lausanne (CH) Les Docks (Inferno Festival)
28 Jun 14 Dessel (BE) Graspop Open Air
29 Jun 14 Wiesbaden (DE) Schlachthof
30 Jun 14 München (DE) Strom
01 Jul 14 Pisa (IT) The Jungle
02 Jul 14 Bologna (IT) Freakout Club
03 Jul 14 Ljubljana (I) Gala Hala
04 Jul 14 Rijeka (HR) Delta Summer Street Session
05 Jul 14 Gleisdorf (AT) Bang Bang Club
07 Jul 14 Warsaw (PL) Progresja
08 Jul 14 Gdansk (PL) B 90
09 Jul 14 Berlin (DE) Magnet
10 Jul 14 Dresden (DE) Scheune
11 Jul 14 Erfurt (DE) Stoned From The Underground
12 Jul 14 Linz (AT) Ottenheimer Open Air
13 Jul 14 Mönchengladbach (DE) Horst Festival
15 Jul 14 St. Petersburg (RU) Zal Ozhidaniya
16 Jul 14 Moscow (RU) Volta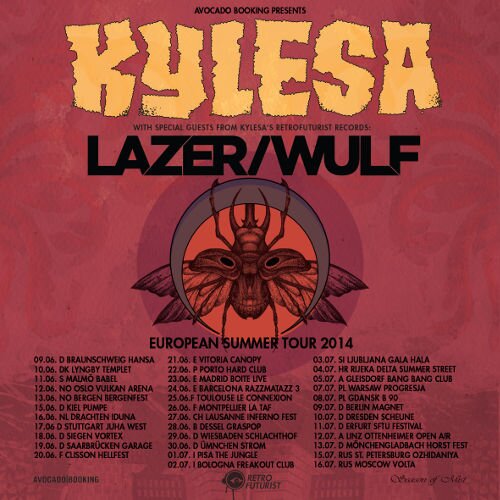 View Kylesa