MISERY INDEX – Rituals of Power – April 24, 2019
Posted on April 24, 2019
More information about Rituals of Power
Death metal extremists MISERY INDEX have will be embarking on a North American tour this spring as direct support for NAILS. The run will kick off on June 8 in Chicago, IL and will conclude on June 16 in Raleigh, NC. A full list of confirmed shows can be found below.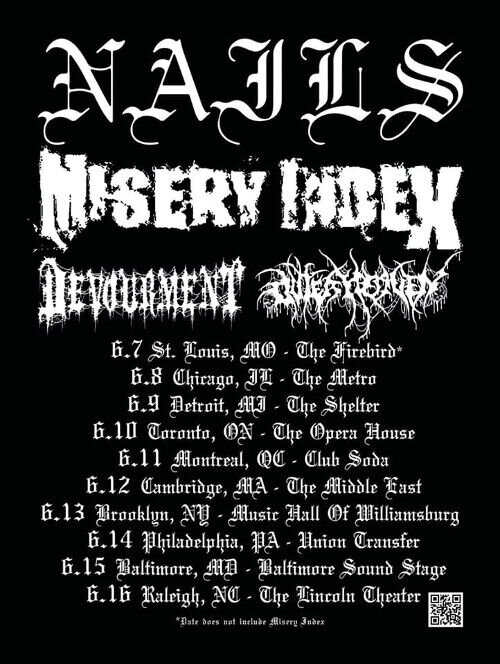 Speaking on the upcoming tour, the band comments, "We are beyond stoked to hit the road on this extra-special and extra-brutal U.S. run with our friends in NAILS, DEVOURMENT, and OUTERHEAVEN. We'll be playing a few tracks of the new record 'Rituals of Power,' as well as bringing the classic heaviness. Come out to the shows, and LET'S GRIND."
MISERY INDEX (on tour w/ NAILS, DEVOURMENT, and OUTER HEAVEN)
06/08: Chicago, IL @ Metro
06/09: Detroit, MI @ The Shelter
06/10: Toronto, ON @ Opera House
06/11: Montreal, QC @ Club Soda
06/12: Boston, MA @ Middle East
06/13: Brooklyn, NY @ Music Hall of Williamsburg
06/14: Philadelphia, PA @ Union Transfer
06/15: Baltimore, MD @ Baltimore Soundstage
06/16: Raleigh, NC @ Lincoln Theater
MISERY INDEX (European Tour)
06/28: Protzen (DE) @ Protzen Open Air
06/29: Wiesbaden (DE) @ Schlachthof
06/30: Karlsruhe (DE) @ Jubez
07/01: Graz (AT) @ Club Q
07/02: Budapest (HU) @ Dürer Kert (+Whitechapel)
07/03: Kosice (SK) @ Collosseum
07/04: Trutnov (CZ) @ Obscene Extreme
07/05: Roskilde (DK) @ Roskilde Fest
07/06: Hamburg (DE) @ Monkey's Club
07/07: Aachen (DE) @ Musikbunker
07/08: Nijmegen (NL) @ Merleyn
07/09: Hannover (DE) @ LUX
07/10: München (DE) @ Backstage (+Napalm Death)
07/11: Budweis (CZ) @ MC Fabrika
07/12: Torgau (DE) @ In Flammen
MISERY INDEX will be touring in support of their album 'Rituals of Power'. The album can be ordered in various formats.
Join MISERY INDEX on their official Facebook page.
View Misery Index