ROTTEN SOUND – Suffer to abuse – February 27, 2018
Posted on February 27, 2018
More information about Suffer to abuse
ROTTEN SOUND are unleashing the first crushing track taken from their forthcoming new EP, 'Suffer to Abuse' – not to be confused with the band's previous album 'Abuse to Suffer'. The EP will hit stores on April 13th, 2018 in Europe and May 18th, 2018 in the US.
The Finnish grindcore stalwards are now streaming "Harvester of Boredom" via via the official Season of Mist YouTube channel here.
Vocalist Keijo Niinimaa comments: "Our new track 'Harvester of Boredom' is the first song created for this release: Sami's riffs and the lyrics are about a drug related harvesting in not-so-good conditions. This has nothing to do with Metallica – except for the nodding tribute in the title – just in case someone mistakenly thought that we wanted to comment on their efforts."
ROTTEN SOUND are furthermore releasing the artwork of 'Suffer to Abuse', which has been created by Thomas Boutet at Mush Design and can be viewed together with the album details below.
Privileged
The Misfit
Stressed Mess
Harvester of Boredom
One Hit Wonder
Nutrition
Slaves of Lust
The release dates coincide with the start of ROTTEN SOUND's European tour. Please find all currently confirmed dates in Asia and Europe below.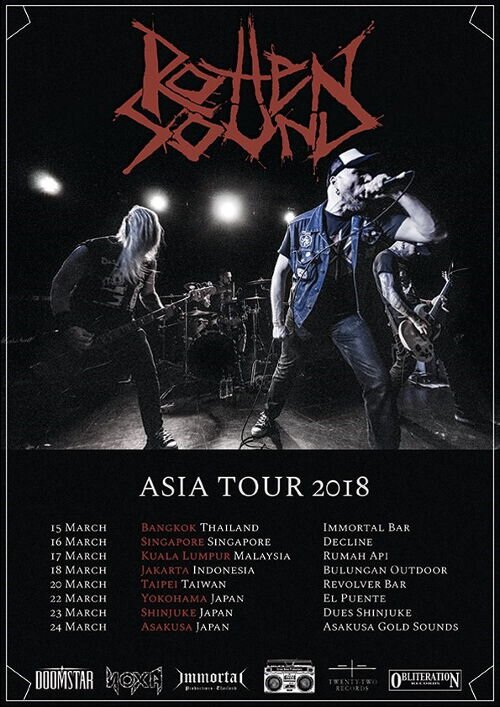 ROTTEN SOUND Asia
15 Mar 18 Bangkok (TH) Immortal Bar
16 Mar 18 Singapore (SG) Decline
17 Mar 18 Kuala Lumpur (MY) Rumah Api
18 Mar 18 Jakarta (ID) Bulungan Outdoor
20 Mar 18 Taipei (TW) Revolver Bar
22 Mar 18 Nishi Yokohama (JP) El Puente
23 Mar 18 Tokyo (JP) Dues Shinjuke
24 Mar 18 Tokyo (JP) Asakusa Gold Sounds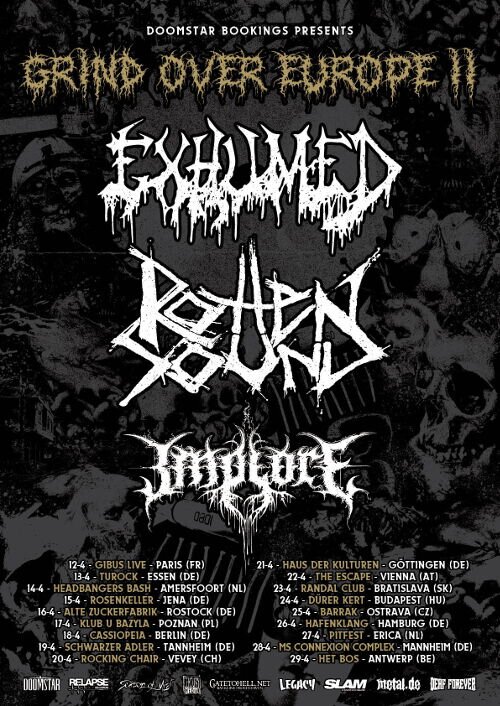 ROTTEN SOUND Europe + EXHUMED
12 Apr 18 Paris (FR) Gibus Live
13 Apr 18 Essen (DE) Turock
14 Apr 18 Amersfoort (NL) Headbangers Bash
15 Apr 18 Jena (DE) Rosenkeller
16 Apr 18 Rostock (DE) Alte Zuckerfabrik
17 Apr 18 Poznan (PL) Klub U Bazyla
18 Apr 18 Berlin (DE) Cassiopeia
19 Apr 18 Tannheim (DE) Schwarzer Adler
20 Apr 18 Vevey (CH) Rocking Chair
21 Apr 18 Göttingen (DE) Haus der Kulturen
22 Apr 18 Vienna (AT) The Escape
23 Apr 18 Bratislava (SK) Randal Club
24 Apr 18 Budapest (HU) Dürer Kert
25 Apr 18 Ostrava (CZ) Barrak
26 Apr 18 Hamburg (DE) Hafenklang
27 Apr 18 Erica (NL) Pitfest
28 Apr 18 Mannheim (DE) MS Connexion Complex
29 Apr 18 Antwerp (BE) Het Bos
ROTTEN SOUND Festivals
03 Mar 18 Tilburg (NL) 013 (Netherlands Deathfest)
23 Jun 18 Clisson (FR) Hellfest (exact date tbc)
12 Jul 18 Viveiro (ES) Resurrection Fest (exact date tbc)
24 Jul 18 Tolmin (SI) Metal Days (exact date tbc)
'Suffer to Abuse' can now be pre-ordered in various formats from the Season of Mist shop
Join ROTTEN SOUND on their official Facebook page!
View Rotten Sound