VULTURE INDUSTRIES – Stranger Times – October 9, 2017
Posted on October 9, 2017
More information about Stranger Times
VULTURE INDUSTRIES have kicked off their European tour in support of their latest album 'Stranger Times', which has been released on September 22nd. The Norwegian eccentrics will be joined by Catalan brothers-in-spirit and label mates, Foscor for selected dates. A full list of confirmed shows can be found below.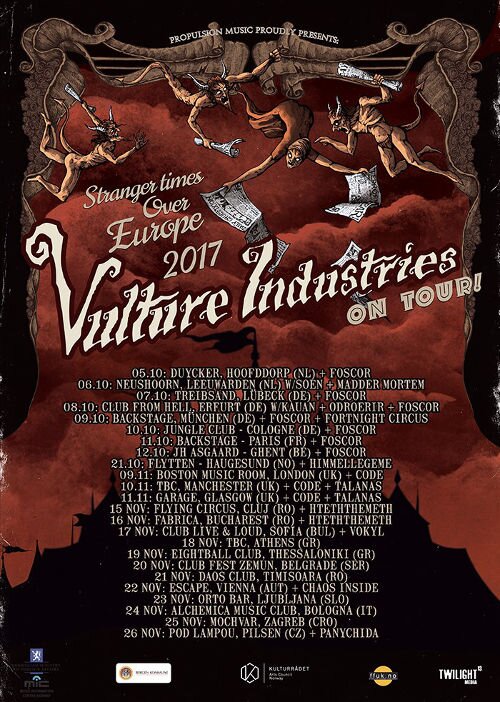 VULTURE INDUSTRIES Live
09 Oct 17 München (DE) Backstage (+Foscor)
10 Oct 17 Köln (DE) Jungle Club (+Foscor)
11 Oct 17 Paris (FR) Backstage (+Foscor)
12 Oct 17 Gent (BE) Asgaard (+Foscor)
21 Oct 17 Haugesund (NO) Flytten (+Himmellegeme)
09 Nov 17 London (UK) Boston Music Room (+Code)
10 Nov 17 Manchester (UK) tba (+Code)
11 Nov 17 Glasgow (UK) Audio (+Code)
15 Nov 17 Cluj (RO) Flying Circus
16 Nov 17 Bucharest (RO) Fabrica
17 Nov 17 Sofia (BG) Club Live & Loud
18 Nov 17 Athens (GR) tba
19 Nov 17 Thessaloniki (GR) Eightball Club
20 Nov 17 Belgrade (RS) Club Fest Zemun
22 Nov 17 Wien (AT) Escape
23 Nov 17 Ljubljana (SK) Orto Bar
24 Nov 17 Bologna (IT) Alchemica Music Club
25 Nov 17 Zagreb (HR) Mochvar
26 Nov 17 Pilsen (CZ) Pod Lampou
Regarding this nearly two-month journey, VULTURE INDUSTRIES commented: "This will be our most ambitious tour to date and we are of course looking enthusiastically forward to visit all of our dearest places and people again. We are thrilled to have the opportunity to present material from our new album 'Stranger Times' in concert format. We will of course supplement this with favourites from our catalogue. We much appreciate everyone, who has requests for a song or two to stop by our Facebook and drop us a comment. Please feel cordially invited to let us know what you want to hear!"
VULTURE INDUSTRIES will be touring in support if their new full-length, 'Stranger Times'. The artwork, which has been created by Costin Chioreanu and the track-list can be viewed below.
Tales of Woe
As the World Burns
Strangers
The Beacon
Something Vile
My Body, My Blood
Gentle Touch of a Killer
Screaming Reflection
Midnight Draws Near
'Stranger Times' can be ordered in various formats from the Season of Mist shop
Join VULTURE INDUSTRIES on their official Facebook page!
View Vulture Industries