Karelia
Industrial Metal - France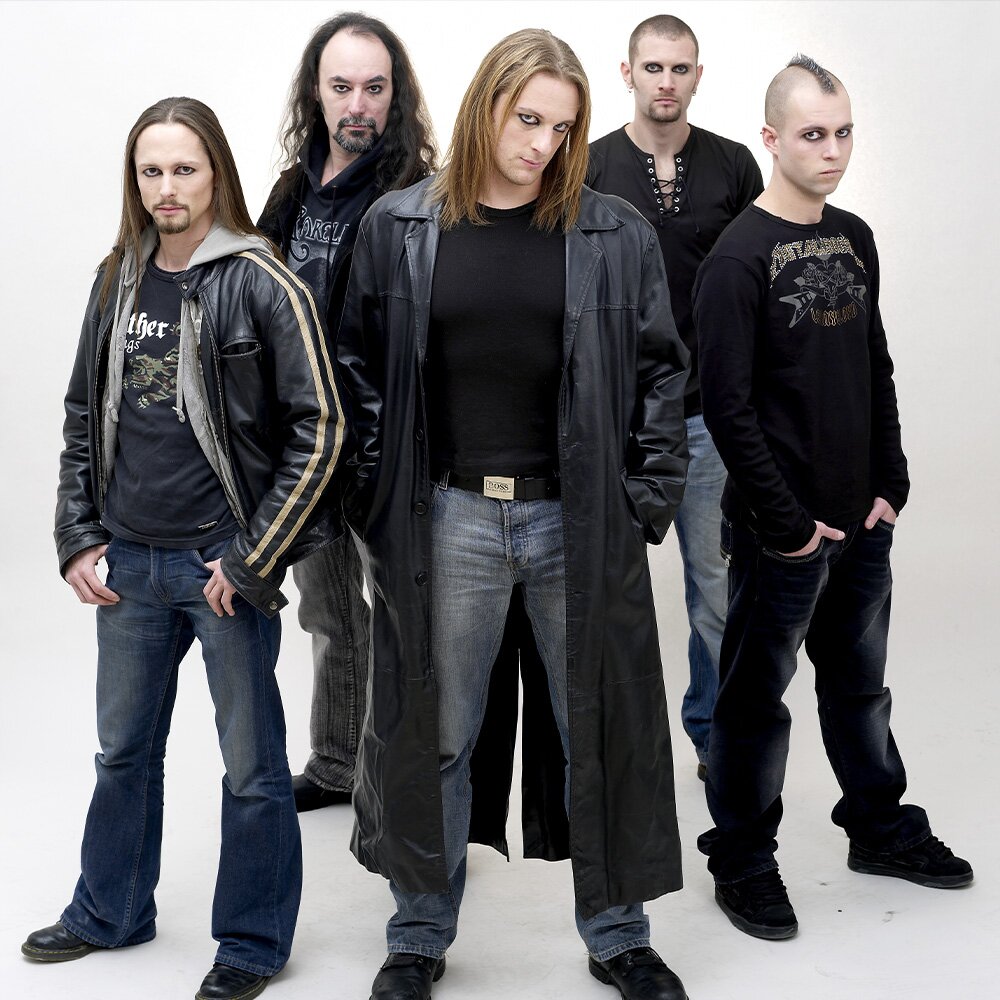 When KARELIA were founded seven years ago the group headed by vocalist and composer Matt Kleiber set out with a strong will to create a catchy multi-layered Metal, but to always stay away from any cliché or genre-typical setting. This concept proved to be quite successful right from the start as only one self-produced demo and a couple of shows with acts like KAMELOT, AT VANCE, VANDEN PLAS and DYSLESIA was already enough for the Frenchmen to be picked up by German label Drakkar/Sony-BMG in 2003. Their debut-album "Usual Tragedy" was released just one-year later featuring Symphonic Heavy Metal. Like a colourful butterfly, KARELIA had crawled out of their cocoon impressing the world with their beautiful features.
What happens if the butterfly decides to crawl back and undergo another metamorphosis? As KARELIA never wanted to turn into a cliché, they were always restless looking for changes and new ways. After the band had already surprised their audience with a different stylistic course on their second release "Raise" (Drakkar/Sony-BMG, 2005) now they return completely transformed. KARELIA's third album answers the questions of what could happen to the butterfly: It returns all sparkling, shiny and different, flapping its wings through completely new dimensions.
KARELIA have never been writing more catchy songs than on "Restless". All tracks all well within airplay range – no monstrous epics here. The melodies and chorus-lines are finding their way quickly into the head, where they will remain and have a party. The music is full of gimmicks and little details, which can only be discovered through listening to "Restless" again and again. At the same time, we are still talking about metal: the guitars are aggressive, the drums pounding a hard beat, the sound deafening and the lyrics according to singer Matt "definitely insane" KARELIA have once more followed their heart and turned every preconception about them upside down. This band does not want to be easily classified and their style filed under just another example of this or that kind of Metal. "You would be quite right to call "Restless" a Dark Industrial Electro Pop Metal album", grins Matt while giving his very own definition. To stress their aversion against any kind of genre-boxes, KARELIA have included two unexpected cover-songs on "Restless". MOBY probably never expected to hear "Lift me Up" as a happy metal tune, while "Losing My Religion" would most likely surprise even R.E.M in this strange version.
At the same time, these artists are a fitting source for KARELIA's current incarnation as each track on the album is supported by opulent electro lines, tortured as well as sensitive vocals and an amazing head-banging groove. While the French have again relied on their proven studio-crew lead by Renaud Hebinger's surreal expertise and his preference for a huge production, they have entered a world way beyond mere sequences of notes: KARELIA create sonic images, atmospheres and haunting moods that will appeal to any kind of an open-minded audience.
KARELIA have always been prepared to take a risk and rather come up with fresh ideas and a different approach than to stand still. This explains the musicals journey, which has taken them to "Restless". Nobody would have expected such an original development, when "Usual Tragedy" was released in 2004. Their music seemed to be firmly anchored in Symphonic Heavy Metal. Their music was epic and rich, including driving drum parts, progressive rhythms and hard-as-nails guitars that were set against hymnic choirs, impressive strings arrangements and numerous cross references to the time of the great classical composers. "Usual Tragedy" met with great success especially in Japan (ranked 4th in the Burrn! magazine metal charts), Germany, Russia and Brazil. Yet KARELIA did not simply rest on their laurels, but changed some aspects of their music when recording the second full-length "Raise": The vocals became more personal and the speed was reduced to mainly mid-tempo, which led to almost complete disappearance of the fast double bass and virtuous technical guitar-playing parts. At the same time, some of the classical arrangements were replaced by electronic sounds. Lyrically the album dwelled on darker topics like the rise of fascism in 1930's Germany, religious wars or the McCarthy era in the USA. A cover-song from PINK FLOYD already hinted at changes to come. At a listening-session for the German press, "Raise" was greeted with ovations. Not all of KARELIA's earlier fans were as enthusiastic of the changes, but the French were being invited to perform live before THE GATHERING, CRYSTAL BALL, NIGHTMARE and DAGOBA.
Now KARELIA return with their third album and the telling title "Restless" on Season of Mist, which sums up the essence of the band's ongoing metamorphosis. Metal, Dark Electro and even Pop it is all there, while Symphonic Heavy Metal is already miles away in the past. At the same time, the band has already been invited to tour with hard rock legend THE SCORPIONS in France and gladly accepting this honourable offer. Once again, KARELIA will be taking their audience with "Restless" to the test, but for the sake of their artistic integrity, they have no other choice: Hear the change, hear the beauty…
Line-up:
Matt Kleiber : Vocals/FX
Erwan Morice : Guitars
Jack Ruetsch : Guitars
Loïc Jenn : Drums
Gilles Thiebaut : Bass
This band is no longer active on Season of Mist.