Reverend Bizarre
Doom Metal - Finland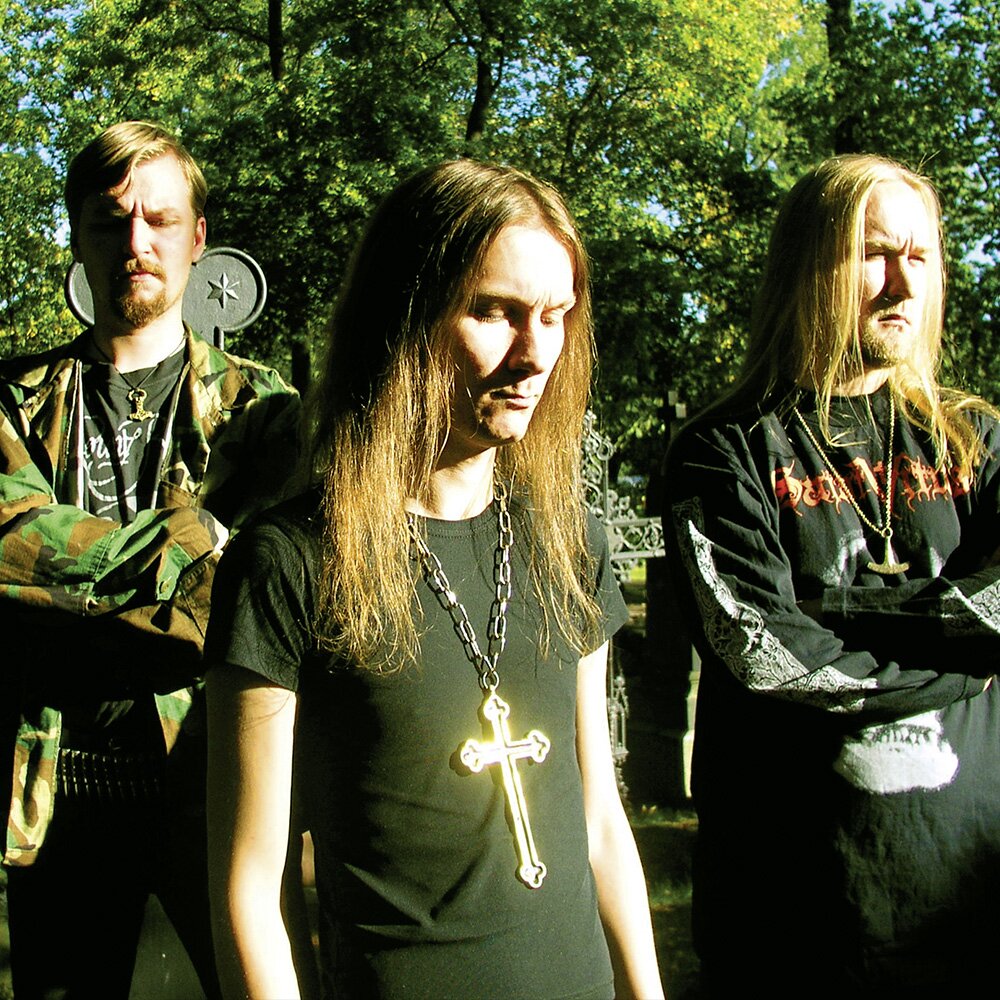 Exclusively Licenced to season of mist for the north America
In 1994, the reverends originally convened in the small southern Finnish town of Lohja with vocalist / bassist Albert Witchfinder, guitarist Peter Vicar and drummer Juippi. Formative demos were primitively recorded straight onto a cassette recorder without microphones! Vicar relocated to the town of Turku in 1997 and the band temporarily folded.
In 1998, Witchfinder relocated to Turku and the group was duly resurrected. Albert also held diverse scene credits with projects such as HERVEN AGAL, ARMANENSCHAFT, THE CANDLES BURNING BLUE, WERWOLF LODGE, THRESHOLD OF YOUR WOMB, ORNE, PATH CALLED PENIS, SOIHTU and SUFFERING SERPENT OF THE LORD. Newly released from prison, Earl of Void joined the reformed band on drums. The Dr. Who themed demo "Slice of Doom" was recorded in three days that August.
REVEREND BIZARRE next appeared on the ST. VITUS tribute A Timeless Tale (Raven Moon Records) and on the compilations Not Of This Earth (Black Widow Records) and "At The Mountains Of Madness Vol. II (Myskatonic Records). After the release of their debut album, 2002s "In The Rectory Of The Bizarre Reverend" (Sinister Figure Records), they were hailed the "best post-Sabbath band ever to record"! The band embarked on the "Friends of Hell" tour throughout Europe alongside MINOTAURI and SPIRITUS MORTIS. Their tour and debut album led to their signing to Spinefarm Records in 2003 who released the 71 minute CDEP "Harbinger of Metal" that same year. February 2004 saw the ORODRUIN spit LP (Hellride Music) as well as the 7″ "Thulsa Doom" (Aftermath Music) and a split 7″ with MINOTARUI all of which quickly sold out. The CD compilation, "Slice of Doom" (PsycheDOOMelic Records) soon followed and contained demos and rehearsals.
Spinefarm re-mastered and re-released the debut album with a bonus CD entitled "Return to the Rectory" which contained a full albums worth of material plus the video for "Doom Over the World".
In January of 2005, Albert Witchfinder sang vocals on SWALLOW THE SUNs verion of the CANDLEMASS song, "Solitude" which hit the Finnish Billboard charts at #5! During that same run, the CD single for the song "Slave of Satan", off of the forthcoming record, "II: Crush the Insects" entered the Billboard chart at #2! Albert Witchfinder had two songs in the top 5 at once!
"II: Crush the Insects" was released in July of 2005 and its catchy hooks and memorable songs proved that doom metal could still be fresh and interesting while remaining impossibly heavy. A US tour and headlining spot at the Templars of Doom festival ran that same month.
In July and August of 2005, Season of Mist released "In The Rectory of the Bizarre Reverend / Return to the Rectory", "Harbingers of Metal" and "Crush the Insects" in North America.
Line-up:
Albert Witchfinder : Basse, Vocal
Peter Vicar : Guitars
Earl Of Void : Drums
This band is no longer active on Season of Mist.
Available territory: North America.