ABBATH – Outstrider – July 4, 2019
Posted on July 4, 2019
More information about Outstrider
Norwegian black metal titans ABBATH are now streaming their entire new album 'Outstrider' in full! The album is set for worldwide release this Friday, July 5th. The new offering can be heard via the official Season of Mist YouTube channel below!
Listen to 'Outstrider' via the official Season of Mist Season of Mist YouTube channel HERE.
ABBATH comment on the album: "Abbath, honed sharp by trial and terror, proudly present 'Outstrider' – our latest catharsis wrung from the guts of darkness. Forged in fiery furnace of adversity, hammered on an anvil of rage, this album is conjured from conflagration coughed from rift of Chaos, rising like a Phoenix from the Pit, to infect our Spitegeist with shamaniacal reflections sheathed in metal compositions, hooked and riffed by razor wire licks impaling bass-lines pulsed on drumbeats dredged from thunderous abyss, by a hive-mind wed to one whole emission: To boldly go where no band has gone before and one step further!"
The coverartwork, which is created by Kim Holm and Olav Iversen, and the track-list for 'Outstrider' can be found below.
Calm in Ire (Of Hurricane)
Bridge of Spasms
The Artifex
Harvest Pyre
Land of Khem
Outstrider
Scythewinder
Hecate
Pace till Death (BATHORY cover)
ABBATH festivals
27 Jul 19 Steenwijk (NL) Stonehenge Festival 2019
24 Aug 19 Bergen (NO) Beyond the Gates Festival 2019
ABBATH + VLTIMAS + 1349
23 Jan 20 Weimar (DE) Uhrenwerk
24 Jan 20 Bochum (DE) Matrix
25 Jan 20 Nijmegen (NL) Doornroosje
26 Jan 20 Antwerpen (BE) Trix
27 Jan 20 London (UK) Islington Assembly Hall
28 Jan 20 Paris (FR) La Machine Du Moulin Rouge
29 Jan 20 Nantes (FR) Stereolux
30 Jan 20 Toulouse (FR) Metronum
31 Jan 20 Barcelona (ES) Salamandra
01 Feb 20 Madrid (ES) But
02 Feb 20 Lyon (FR) Nikasi Kao
04 Feb 20 Mannheim (DE) MS Connexion Complex
05 Feb 20 München (DE) Backstage
06 Feb 20 Luzern (CH) Schüür
07 Feb 20 Parma (IT) Campus Music Industry
08 Feb 20 Brno (CZ) Fleda
09 Feb 20 Warschau (PL) Progresja
11 Feb 20 Berlin (DE) Festsaal Kreuzberg
12 Feb 20 Hamburg (DE) Kulturpalast
13 Feb 20 Copenhagen (DK) Amager Bio
14 Feb 20 Gothenburg (SE) Tradgarn
15 Feb 20 Stockholm (SE) Fryhuset Klubben
ABBATH have furthermore announced a North American tour in North America with OBITUARY and MIDNIGHT. Find all tourdates below.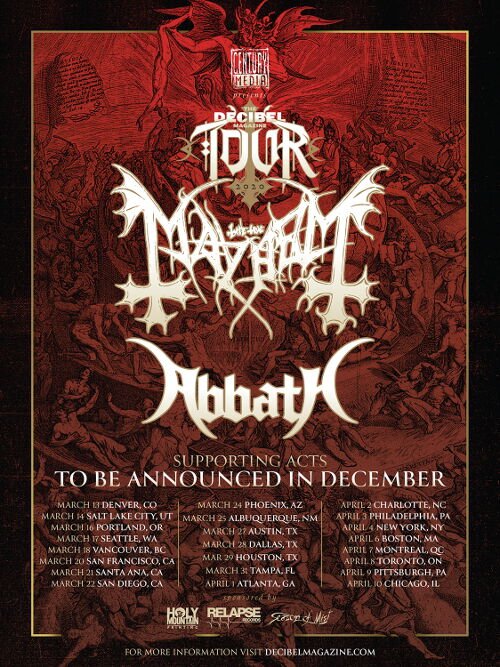 ABBATH (w/ OBITUARY, MIDNIGHT, and DEVIL MASTER)
09/27: Baton Rouge, LA @ Varsity Theatre
09/28: Dallas, TX @ Gas Monkey Bar and Grill
09/09: Austin, TX @ Come and Take it Live!
10/01: Albuquerque, NM @ Sunshine Theater
10/02: Tucson, AZ @ Encore
10/03: San Diego, CA @ Brick by Brick
10/04: Santa Ana, CA @ The Observatory
10/05: Berkeley, CA @ The UC Theatre
10/06: Reno, NV @ Cargo
10/08: Grand Junction, CO @ Mesa Theater
10/09: Denver, CO @ Summit
10/10: Lawrence, KS @ The Granada
10/11: St. Louis, MO @ The Ready Room
10/12: Joliet, IL @ The Forge
10/13: Madison, WI @ Sylvee
10/15: Detroit, MI @ St. Andrew's Hall
10/17: Toronto, ON @ The Phoenix
10/18: Montreal, QC @ The Corona Theatre
10/19: New York, NY @ Gramercy Theater
10/20: Providence, RI @ The Strand
10/21: Philadelphia, PA @ Union Transfer
10/23: Baltimore, MD @ Sound Stage
10/24: Raleigh, NC @ Lincoln Theatre
10/25: Atlanta, GA @ Buckhead Theatre
'Outstrider' is available in various formats in the Season of Mist shop.
Join ABBATH on their official Facebook page.
View Abbath