BENIGHTED are about to embark on the "Hell over Europe II" tour with headliners ABORTED and CRYPTOPSY as well as opening act CYTOTOXIN in what promises to be the ultimate death metal package of the season. See below for all currently confirmed dates.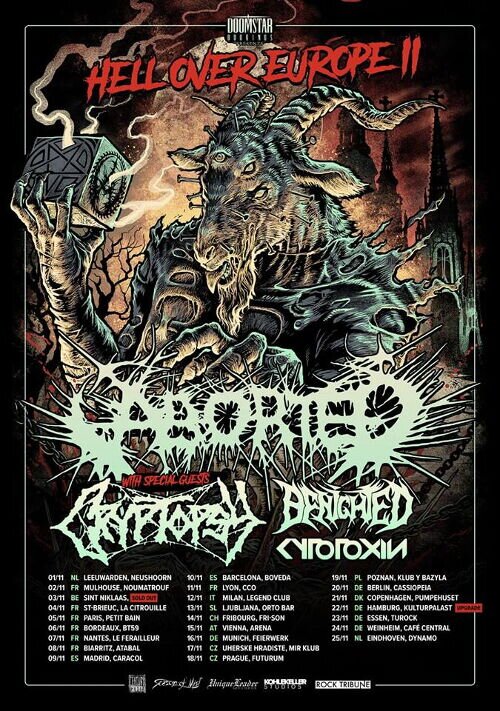 Vocalist Julien Truchan commented: "Well, this is it! We will kick off this amazing European tour with our brothers from ABORTED, CRYPTOPSY, and CYTOTOXIN! 'Hell over Europe II': with so much brutality in one single billing, you really have to be there or cry!"
BENIGHTED + ABORTED + CRYPTOPSY + CYTOTOXIN
01 Nov 18 Leeuwarden (NL) Neushoorn
02 Nov 18 Mulhouse (FR) Noumatrouff
03 Nov 18 Sint Niklaas (BE) Casino (SOLD OUT!)
04 Nov 18 Saint-Brieuc (FR) La Citrouille
05 Nov 18 Paris (FR) Petit Bain
07 Nov 18 Nantes (FR) Le Ferrailieur
08 Nov 18 Biarritz (FR) Atabal
09 Nov 18 Madrid (ES) Caracol
10 Nov 18 Barcelona (ES) Boveda
11 Nov 18 Lyon (FR) CCO
12 Nov 18 Brescia (IT) Circolo Colony
13 Nov 18 Ljubljana (SL) Orto Bar
14 Nov 18 Fribourg (CH) Fri-Son
15 Nov 18 Wien (AT) Arena
16 Nov 18 München (DE) Feierwerk
17 Nov 18 Uherske Hradiste (CZ) Klub Mir
18 Nov 18 Praha (CZ) Futurum
19 Nov 18 Poznan (PL) Klub Y Bazyla
20 Nov 18 Berlin (DE) Cassiopeia
21 Nov 18 København (DK) Pumpehuset
22 Nov 18 Hamburg (DE) Kulturpalast (SOLD OUT!)
23 Nov 18 Essen (DE) Turock
24 Nov 18 Weinheim (DE) Café Central
25 Nov 18 Eindhoven (NL) Dynamo
BENIGHTED are playing in support of their recently released EP 'Dogs Always Bite Harder Than Their Master'. The EP is available in various formats in the Season of Mist shop.
Join BENIGHTED on their official Facebook page.
View Benighted