BLACK TUSK – TCBT – December 11, 2019
Posted on December 11, 2019
More information about TCBT
Savannah, GA swamp rockers BLACK TUSK will be kicking off the new year with a headlining U.S. tour, in which they will be supported by ALL HELL.
The trek will start on January 7 in Athens, GA and will conclude on January 17 in Tampa, FL. The full run of dates can be found below: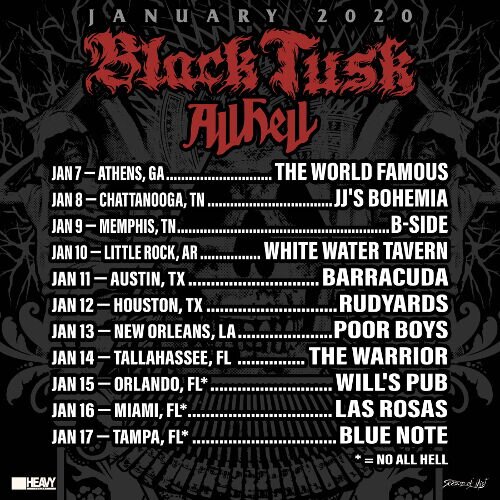 BLACK TUSK (w/ All Hell):
01/07: Athens, GA @ The World Famous
01/08: Chattanooga, TN @ JJ's Bohemia
01/09: Memphis, TN @ B-Side Memphis
01/10: Little Rock, AR @ White Water Tavern
01/11: Austin, TX @ Barracuda
01/12: Houston, TX @ Rudyard's
01/13: New Orleans, LA @ Poor Boys Bar
01/14: Tallahassee, FL @ The Warrior on The River
01/15: Orlando, FL @ Will's Pub
01/16: Miami, FL @ Las Rosas
01/17: Tampa, FL @ The Blue Note Bar
Join BLACK TUSK on their official Facebook page.
BLACK TUSK will be touring in support of their last release 'TCBT', which is still available in the Season of Mist shop.
View Black Tusk