GAEREA Announce Special Screening Event
Posted on September 13, 2023
More information about Mirage
The mystery around GAEREA just keeps on growing.
We don't know what exactly they plan on showing. But whatever it is they've got up their blackened sleeves, it's bound to be beautiful and torturous. The cathartic black metal band are hosting a special screening in Chicago's Avondale neighborhood at the Original Kuma's Corner on Thursday, September 28. The screening will start at 7:30 p.m. and is free to attend. Fans will get to meet the band and can enter a raffle for the chance to win a pair of tickets to their show at the Metro on Saturday, September 30.
If that doesn't whet your appetite, Kuma's is giving Gaerea a signature burger! Modeled after what Kuma's famously cooked up for Slayer, the Gaerea burger comes with a twist straight from the band's hometown of Porto, Portugal. Served on top of a bed of fresh house-cut fries, their take on the Francesinha sandwich includes an Angus beef patty, sausage, uncured ham, shredded Monterrey jack cheese and a fried egg on Texas Toast. As if that wasn't enough, the whole burger comes smothered in a decadent sauce that's made from piri piri spices and the city's famous Port wine.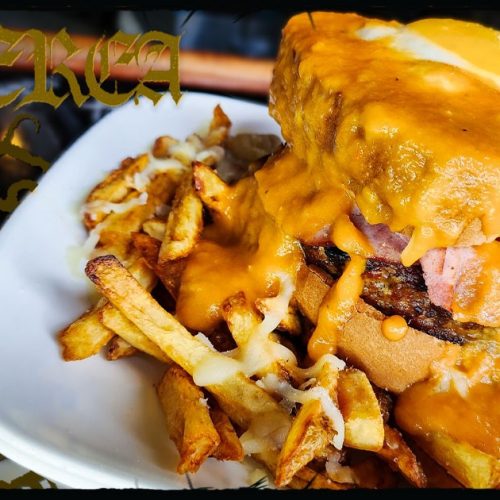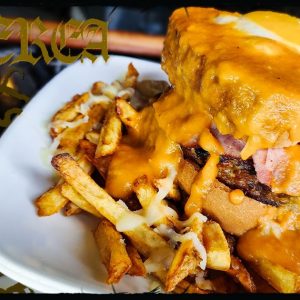 Nobody knows what the members of Gaerea look like. But they've captured a lot of people's attention since emerging from the limbo of the pandemic. Last year, Gaerea released 'Mirage', which Decibel, Metal Hammer and many other magazines considered one of the best, most cathartic black metal albums of 2022. This summer, they took that album to stages all over Europe, including huge summer festivals like Bloodstock Open Air and Summer Breeze.
Now, Gaerea are returning to North America for a tour with three of the most innovative forces in American heavy music: Hoaxed, Blackbraid and Wolves in the Throne Room.
"This is the death of 'Mirage' and the moment we start to let go of our world just so another one can be born," says Gaerea. "The screening at Kuma's will showcase everything Gaerea has ever stood for. Get ready to witness something truly special, crafted specially to each and everyone of you who wishes to join us for an evening we shall never forget."
Crypt of Ancestral Knowledge Tour Dates
09/29: St Louis, MO @ Red Flag [TICKETS]
09/30: Chicago, IL @ Metro [TICKETS]
10/01: St. Paul, MN @ Amsterdam Bar & Hall [TICKETS]
10/03: Detroit, MI @ El Club [TICKETS]
10/04: Toronto, ON @ Lee's Palace [TICKETS]
10/05: Montreal, QC @ Theatre Fairmount [TICKETS]
10/06: Boston, MA @ Big Night Live [TICKETS]
10/07: Hamden, CT @ Space Ballroom [TICKETS]
10/08: Brooklyn, NY @ Brooklyn Monarch [TICKETS]
10/10: Philadelphia, PA @ Underground Arts [TICKETS]
10/11: Baltimore, MD @ Baltimore Soundstage [TICKETS]
10/12: Richmond, VA @ The Canal Club [TICKETS]
10/13: Greensboro, NC @ Hangar 1819 [TICKETS]
10/14: Atlanta, GA @ The Loft [TICKETS]
10/15: Tampa, FL @ Orpheum [TICKETS]
10/17: Dallas, TX @ Echo Lounge & Music Hall [TICKETS]
10/18: Austin, TX @ Come And Take It Live [TICKETS]
10/20: Albuquerque, NM @ Sister [TICKETS]
10/21: Tucson, AZ @ Encore [TICKETS]
10/23: Salt Lake City, UT @ Metro Music Hall [TICKETS]
10/24: Denver, CO @ The Oriental Theater [TICKETS]
Memoir
Salve
Deluge
Arson
Ebb
Mirage
Mantle
Laude
View Gaerea