SAINT VITUS – Live Vol. 2 – October 9, 2017
Posted on October 9, 2017
More information about Live Vol. 2
Following their triumphant tour earlier this year, SAINT VITUS are now ready to kick off a second leg of their European tour in support of their latest release 'Live Vol. 2'. The godfathers of American doom metal will be supported by MOS GENERATOR. A full list of confirmed shows can be found below.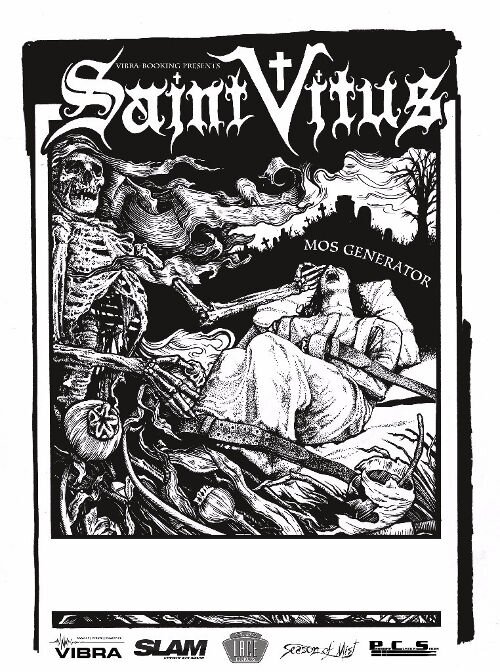 SAINT VITUS + MOS GENERATOR
09 Oct 17 Wien (AT) Viper Room
10 Oct 17 Bologna (IT) Freakout Club
11 Oct 17 Roma (IT) Traffic Live
12 Oct 17 Mezaggo (IT) Bloom
14 Oct 17 Helsinki (FI) Korjaamo (Blowup Vol. 3)
15 Oct 17 Antwerpen (BE) Trix (Desertfest 2017)
17 Oct 17 Frankfurt (DE) Zoom
19 Oct 17 Chemnitz (DE) Talschock
20 Oct 17 Leeuwarden (NL) Neushoorn (Into the Void Festival)
22 Oct 17 München (DE) Feierwerk (Keep It Low Festival)
23 Oct 17 Berlin (DE) Lido
SAINT VITUS have recently released what is only the second live album of their long running career, which is quite aptly entitled 'Live Vol. 2'. Artwork and track-list can be viewed below.
War Is Our Destiny
Look Behind You
Let Them Fall
The Bleeding Ground
Patra (Petra)
The Troll
The Waste Of Time
White Stallions
Thirsty And Miserable
Dying Inside
Born Too Late
'Live Vol. 2' can still be ordered in various formats from the Season of Mist shop
Join SAINT VITUS on their official Facebook page!
View Saint Vitus