E-Force
Thrash Metal - Canada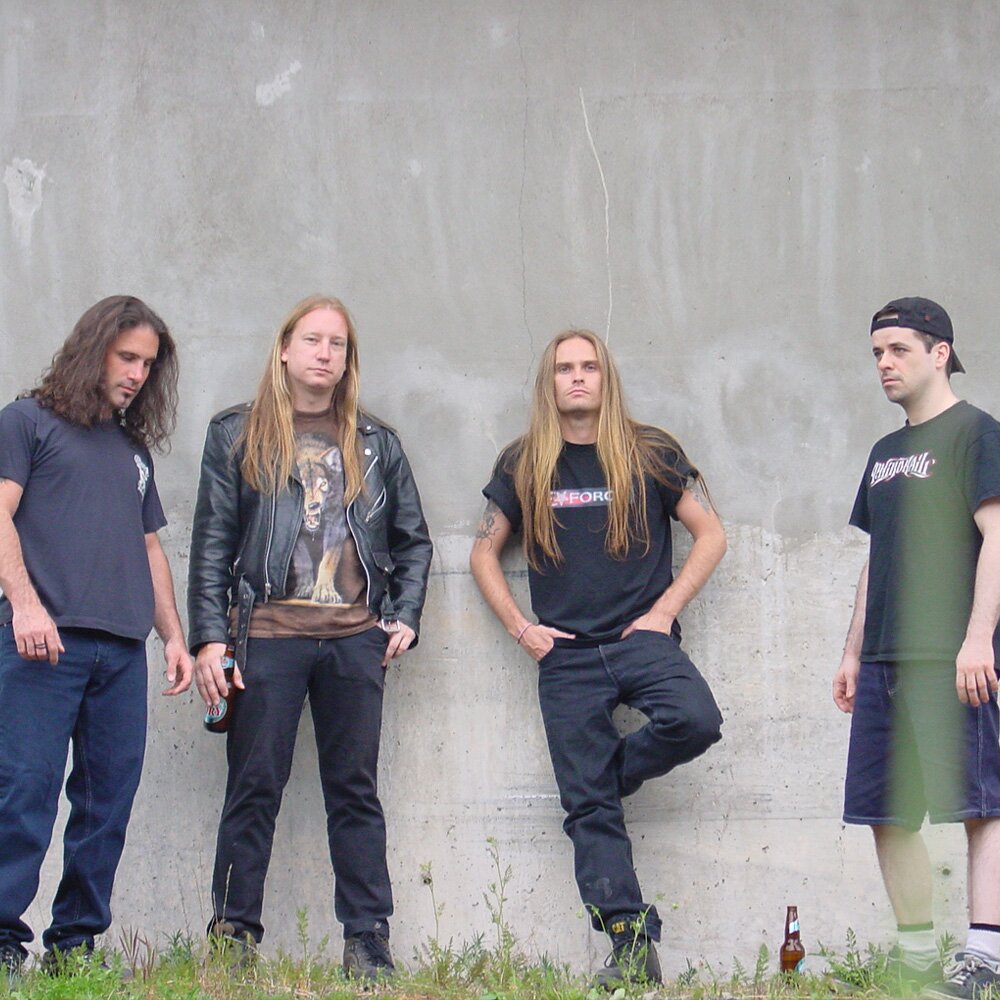 E-FORCE was formed in Montreal in the spring of 2001 by singer/bassist Eric Forrest, upon his departure from cyber-metallers VOIVOD. After choosing to use his VOIVOD moniker as the bands name, Eric was joined by guitarists Dan Lauzon and Bryan Donahue. During the period from April to November of that year, the trio wrote and demoed a number of songs reminiscent of bands like Voivod, Ministry and Slayer. These early sessions spawned a raw 5-song demo recorded on 8-track with a drum-machine backing up the sonic mayhem. Songs featured mechanic riffing infused with eerie solos and Erics trademark spacey vocals. The lyrical content varied from fictional themes such as the Vlad Tepes story ("Forest of the Impaled") to those inspired by contemporary events such as the Quebec City riots of 2001 ("Disorder").
In December 2001 the band began recording their second demo with the addition of drummer Louis Levesque. This new demo featured re-recorded versions of three songs from the first demo plus a brand new number, now with crushing production and solid, live drums. Recording and production wound up in February 2002 and this new 4-song demo has since been circulating in Metal circles worldwide. Interest pours in from numerous fanzines ; the buzz has begun, the virus is planted….
E-FORCE played a few local shows in Montreal, all the while focusing on writing, and preparing for a worldwide assault. With the liberty of Dans home recording studio, the only direction is writing and recording.
After inking a deal with Season of Mist, in early 2003 now the band finds themselves writing furiously ; defining the sound. Determined. Driven. Uncompromising. Faster, heavier, more over the top, each song getting better. Pushing the envelope. New songs, such as "Satanic Rituals", "Mayhem" and "Germ Warfare" surface… pushing out previously recorded songs. Raising the bar.
On the final day of June, 2003 the band arrive at Wild Studio, in remote St-Zenon, north of Montreal, to record with Pierre Remillard (Cryptopsy, Kataklysm, Gorguts, Krisiun) in a tranquil, peaceful cottage on the lake…. a perfect setting for the sonic mayhem and turbulence that will take place in the next 2 weeks.
4 men, each accomplished musicians in their own field ; over 18 years of experience each. Differing tastes, opinions and styles. Attitude. Passion. Locked away in a remote location, with only 1 goal ; delivering an uncompromising and unrelenting debut album. No limits. Speed metal, thrash metal, power metal, death metal… Call it what you will, for Eric, Dan, Bryan and Louis, E-FORCE ; its real metal !
After the release of "Evil Forces" Eric Forrest relocated to France for personal and business reasons. He married to Nathalie Denaclara (fmr 89.1 / Havana-cafe.fr) last September.
Following Erics relocation, the new E-FORCE line up is as follows: Eric Forrest – bass / vocals, Lewis Leveque – drums, Denis Rousell – guitar and Yann Ploquin – guitar.
Line-up:
Jerome Point : Lead Guitars
Eric Forrest : Vocals, Bass
Dennis Rousell : Guitars
Krof : Drums
This band is no longer active on Season of Mist.