ARCHSPIRE – Relentless Mutation – February 12, 2019
Posted on February 12, 2019
More information about Relentless Mutation
Canadian tech-death metal masters ARCHSPIRE have announced a full North American tour in which they will be supported by label-mates VIRVUM as well as INFERI and WORMHOLE. 'Tech Trek IV,' which is presented by Kiesel Guitars, will kick off on May 9 in Seattle, WA and will conclude on June 4 in Boise, ID. The full itinerary can be found below.
Speaking about the run, ARCHSPIRE commented: "We'll be heading across the U.S.A. with 'Tech Trek IV,' presented by Kiesel Guitars. You can expect a crazy set from us and we'll be joined by some insane bands – WORMHOLE is some intense slamming brutal death metal from Baltimore, the extreme progressive death metal of VIRVUM, and our good pals in INFERI who shred like no one else! We'll also be announcing additional dates and some giveaways in the coming weeks, so stay tuned and Stay Tech!"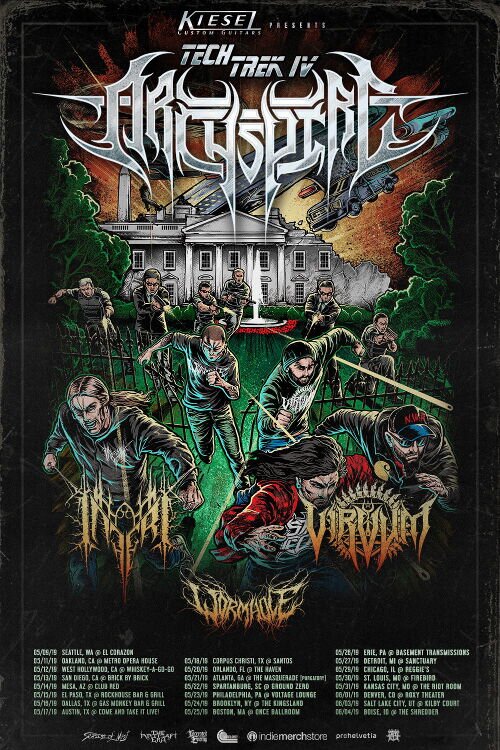 ARCHSPIRE with VIRVUM, INFERI and WORMHOLE
09 May 19 Seattle, WA (US) El Corazon
11 May 19 Oakland, CA (US) Metro Opera House
12 May 19 West Hollywood, CA (US) Whiskey A Go-Go
13 May 19 San Diego, CA (US) Brick by Brick
14 May 19 Mesa, AZ (US) Club Red
15 May 19 El Paso, TX (US) Rockhouse Bar and Grill
16 May 19 Dallas, TX (US) Gas Monkey Bar and Grill
17 May 19 Austin, TX (US) Come and Take it Live
18 May 19 Corpus Christi, TX (US) Boozers Rock Bar
20 May 19 Orlando, FL (US) The Haven
21 May 19 Atlanta, GA (US) The Masquerade Purgatory
22 May 19 Spartanburg, SC (US) Ground Zero
23 May 19 Philadelphia, PA (US) Voltage Lounge
24 May 19 Brooklyn, NY (US) The Kingsland
25 May 19 Boston, MA (US) Once Ballroom
26 May 19 Erie, PA (US) Basement Transmissions
27 May 19 Detroit, MI (US) Sanctuary
28 May 19 Louiseville, KY (US) The Tiger Room
29 May 19 Chicago, IL (US) Reggie's
30 May 19 St,Louis, MO (US) Firebird
31 May 19 Kansas City, MO (US) The Riot Room
01 Jun 19 Denver, CO (US) Roxy Theater
03 Jun 19 Salt Lake City, UT (US) Kilby Court
04 Jun 19 Boise, ID (US) The Shredder
ARCHSPIRE will be touring in support of their latest release. 'Relentless Mutation'. The album is still available in the Season of Mist shop .
Join ARCHSPIRE on their official Facebook page .
View Archspire