CANNABIS CORPSE – Left Hand Pass – October 2, 2017
Posted on October 2, 2017
More information about Left Hand Pass
In support of their recently released album 'Left Hand Pass', CANNABIS CORPSE guitar player Ray Suhy streams a brand-new play-through video of the crushing track 'The 420th Crusade' via Gear Gods.
You can watch the full play-trough video here
CANNABIS CORPSE recently announced a North American tour as main support to NAILBOMB (POINT BLANK WITH SOULFLY) starting October 6th, 2017. A full list of confirmed tour dates can be found below.
CANNABIS CORPSE
03 Oct 17 Oklahoma City, OK (US) Thunder Alley
04 Oct 17 Albuquerque, NM (US) The Jam Spot
05 Oct 17 Scottsdale, AZ (US) Pub Rock Live
CANNABIS CORPSE + NAILBOMB + NOISEM + LADY KONG
06 Oct 17 San Diego, CA (US) Brick By Brick
07 Oct 17 Los Angeles, CA (US) Whiskey A Go Go
08 Oct 17 San Francisco, CA (US) DNA Lounge
09 Oct 17 Portland, OR (US) Dante's
10 Oct 17 Seattle, WA (US) Studio Seven
11 Oct 17 Idaho Falls, ID (US) Diamondz Event Center 9
12 Oct 17 Salt Lake City, UT (US) Metro Music Hall
13 Oct 17 Denver, CO (US) Marquis Theatre
14 Oct 17 Kansas City, MO (US) Riot Room
15 Oct 17 Indianapolis, IN (US) Deluxe
16 Oct 17 Joliet, IL (US) The Forge
17 Oct 17 Cleveland, OH (US) Agora Ballroom
18 Oct 17 Detroit, MI (US) Token Lounge
19 Oct 17 Toronto, ON (CA) Opera House
20 Oct 17 Montreal, QC (CA) Foufoune Electrique
21 Oct 17 Boston, MA (US) Brighton Music Hall
22 Oct 17 New York, NY (US) Gramercy Theatre
23 Oct 17 Philadelphia, PA (US) Voltage Lounge
24 Oct 17 Richmond, VA (US) Broadberry
25 Oct 17 Lynchburg, VA (US) Phase 2
26 Oct 17 Baltimore, MD (US) Baltimore Soundstage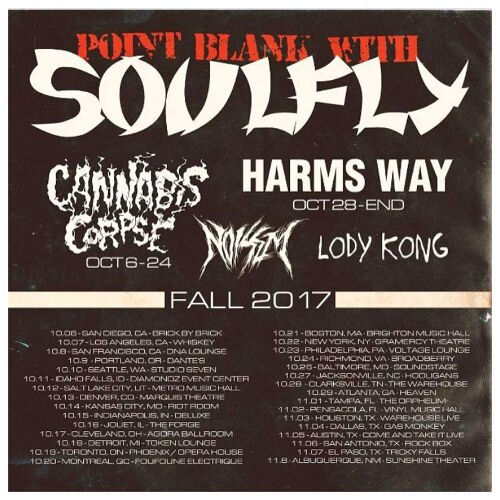 CANNABIS CORPSE will be touring in support of their new album 'Left Hand Pass'. Cover artwork and track list can be found below.
The 420th Crusade
In Dank Purity
Final Exhalation
Chronic Breed
In Battle There Is No Pot
Grass Obliteration
Left Hand Pass
Effigy of the Forgetful
Papyrus Containing the Spell to Protect Its Possessor Against Attacks from He Who Is in the Bong Water
The Fiends that Come to Steal the Weed of the Deceased
'Left Hand Pass' can still be ordered in various formats from the Season of Mist shop
Join CANNABIS CORPSE on their official Facebook page!
View Cannabis Corpse