CARACH ANGREN – This Is No Fairytale – January 11, 2017
Posted on January 11, 2017
More information about This Is No Fairytale
CARACH ANGREN have kicked off their winter tour with FLESHGOD APOCALYPSE at the Backstage in Munich, Germany last Saturday in support of their latest horror metal masterpiece 'This Is No Fairytale'.
The Dutch master of horror metal and the Italian opera fanatics will continue all month and hit 10 more European countries before a final curtain at Haunting the Chapel in the French city of Metz on the 28th of January. A full list of confirmed shows can be found below.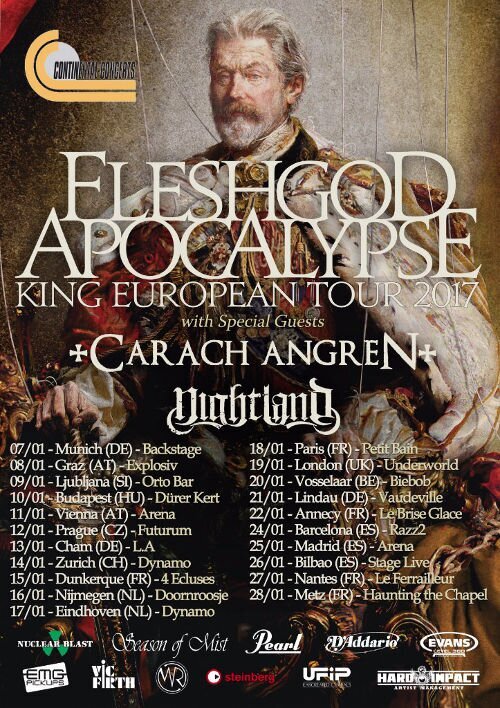 CARACH ANGREN + FLESHGOD APOCALYPSE + NIGHTLAND
10 Jan 17 Budapest (HU) Dürer Kert
11 Jan 17 Wien (AT) rena
12 Jan 17 Praha (CZ) Futurum
13 Jan 17 Cham (DE) LA
14 Jan 17 Zürich (CH) Dynamo
15 Jan 17 Dunkerque (FR) 4 Ecluses
16 Jan 17 Nijmegen (NL) Doornroosje
17 Jan 17 Eindhoven (NL) Dynamo
18 Jan 17 Paris (FR) Le Petit Bain
19 Jan 17 London (UK) Underworld
20 Jan 17 Vosselaar (BE) Biebob
21 Jan 17 Lindau (DE) Vaudeville
22 Jan 17 Annecy (FR) Le Brise Glace
24 Jan 17 Barcelona (ES) Razzmatazz 2
25 Jan 17 Madrid (ES) Arena
26 Jan 17 Bilbao (ES) Stage Live
27 Jan 17 Nantes (FR) Le Ferrailleur
28 Jan 17 Metz (FR) Haunting The Chapel
CARACH ANGREN Festival
23 Jun 17 Kauhajoki (FI) Nummirock (exact date tbc)
Artwork and track-list of 'This Is No Fairytale' are shown below.
Once upon a Time...
There's No Place Like Home
When Crows Tick On Windows
Two Flies Flew Into A Black Sugar Cobweb
Dreaming Of A Nightmare In Eden
Possessed By A Craft Of Witchery
Killed and Served By The Devil
The Witch Perished In Flames
Tragedy Ever After
CARACH ANGREN commented: "After three long years and many tours around the globe we are very much looking forward to haunt Europe once again. Make sure not to miss this great billing!"
'This Is No Fairytale' can still be ordered in various formats from the Season of Mist shop.
Join CARACH ANGREN on their official Facebook page!
View Carach Angren